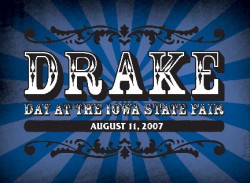 CONTACT: Lisa Lacher, 515-271-3119,
lisa.lacher@drake.edu
Drake University will present a circus sideshow featuring campus oddities and legends on Drake Day at the Iowa State Fair on Saturday, Aug. 11. The free festivities will take place from 9 a.m. to 6 p.m. at the Drake tent on Rock Island Avenue just east of the Bill Riley Stage.
The sideshow will include the World's Smallest Bulldog and the opportunity to pose for a free photo with his bone-chilling older brother, the Largest Spike in World History. There also will be free goodies and opportunities to meet Drake athletes and coaches.
Coach Amy Stephens and members of the women's basketball team will be at the tent from noon to 2 p.m. Coach Keno Davis and members of the men's basketball team will be featured from 2 to 4 p.m. The athletics program will conclude from 4 to 6 p.m. with Drake Relays Director Brian Brown and Head Men's and Women's Track and Field Coach Natasha Kaiser Brown.
For more information about Drake Day at the Fair, contact Michelle Thilges at 515-271-3163 or mcstaff@drake.edu.