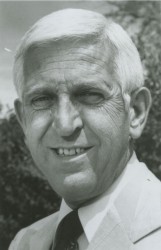 Bob Karnes
CONTACT: Mike Mahon, 515-271-3014, mike.mahon@drake.edu
Former Drake University Athletic Director Bob Karnes died July 12 of cancer at the age of 81 in Mesa, Ariz.
Karnes served as head track and field coach, athletic director and Drake Relays director.
Funeral services for Karnes will be at 11 a.m. July 20 at Velda Rose United Methodist Church, 5540 E. Main St., in Mesa, Ariz.
A native of Overbrook, Kan., Karnes served as Drake's athletic director from 1968 until his retirement Aug. 31, 1986.
He was president of both the National Association of Collegiate Directors of Athletics and the NCAA Cross County Coaches Association. He was inducted into the National Association of Collegiate Directors of Athletics Hall of Fame in 1987.
Karnes also was a member of the U.S. Olympic Committee and the NCAA Track and Field Rules Committee. He was named to the Iowa Track Coaches Hall of Fame in 1985.
Karnes was appointed head track and field coach, cross country coach and director of the Drake Relays on July 31, 1955, succeeding Tom Deckard.
Karnes' teams won 15 Missouri Valley Conference titles, more than any other Drake coach in any sport.
Under Karnes, Drake won eight Missouri Valley Conference men's cross country titles (1958, 1960, 1962-64, 1966-68), five MVC men's outdoor track and field crowns (1963-65, 1968-69) and two MVC men's indoor track and field crowns (1968, 1969).
During Karnes' tenure, Drake hosted the NCAA Track and Field Championships (1970), the National High School All-American Track and Field Championship meet (1972) and the NCAA Western Regional Wrestling tournament (1974).
The Drake men's basketball team played in three straight NCAA Tournaments, finishing third in the 1969 NCAA Final Four. Karnes initiated the Bulldog Club to provide financial assistance for Drake's student-athletes, completed major renovations in both the Drake Fieldhouse and Drake Stadium and merged the Drake men's and women's athletic departments.
"He was my boss for a long time, but I considered him not only a boss, but a longtime friend," Drake athletic historian Paul Morrison told the Des Moines Register.
Rick Wannamaker, an NCAA champion in the decathlon and a member of Drake's 1969 Final Four men's basketball team, described Karnes as an athlete's coach. "I hated to see him become an athletic director, because I liked him so much as a coach," Wannamaker told the Des Moines Register.
Karnes is the second former Drake Relays director to die this year. His successor, Bob Ehrhart, died in January.
Karnes was one of the top distance runners in the University of Kansas history. He won more Big Eight Conference track titles — 13 — than any man in that school's history and was captain of five teams.
He was a two-time NCAA All-American in track and field and his 13 league crowns topped the records of the legendary Glenn Cunningham, Jim Ryan and Wes Santee. He also was a two-time winner of the Henry Schulte Trophy as the Big Eight Conference Outstanding Track and Field athlete.
Karnes graduated from Kansas with a bachelor's degree in 1950 and Drake with a master's degree in education in 1967. He served in the U.S. Navy during World War II and later joined the naval reserve.