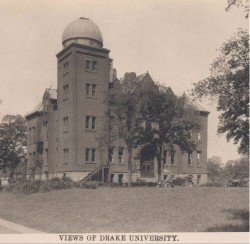 The collection includes this photo of Science Hall, which was built in 1893 and razed in 1949 to make way for Harvey Ingham Hall.
CONTACT: Lisa Lacher, 515-271-3119, lisa.lacher@drake.edu
Receiving national attention this month is an online collection of more than 200 historic photographs of Des Moines, held and scanned from original sources by the Special Collections Department of Drake University's Cowles Library.
The innovative and easy-to-use Historic Des Moines collection offers Web surfers an in-depth, visual look at the history Iowa's capital city. It is featured on the Web site of CONTENTdm, a leading software tool used for managing libraries' digital collections, throughout July at http://www.contentdm.com/customers/index.html.
"We started with images that didn't have addresses or much other information to accompany them and created a well-documented collection that isn't just a series of pictures, it's a working history of Des Moines," said Bart Schmidt, digital projects librarian at Cowles Library.
Photos in the collection were taken at various locations in Des Moines between 1904 and 1914. Each image is accompanied by a written history of its subject. In addition, viewers can use a map link to see where photographed buildings stood or stand in Des Moines. If a building is still standing, modern-day images of it are available.
Accompanying the collection is an article by local historian and 1983 Drake graduate John Zeller, titled, "From the Real to the Ideal: Images of Des Moines in the Progressive Era."
Schmidt said these features add to the accessibility and depth of the collection. "The Historic Des Moines collection is a great model for other libraries looking to create online collections that are easy to navigate and that add value to the original materials," he added.
Original photographs were taken from three sources at Cowles Library:
"Art Work of Des Moines," a nine-volume boxed set of photographic plates printed by photogravure and published in 1915.
"The Iowa State Atlas," a collection of 99 photomontage-style image plates, published in 1904.
"History of Des Moines and Polk County," a set of more than 100 photographs compiled by Johnson Brigham, the first state librarian of Iowa, and published in 1911.
Staff and student researchers at Drake University consulted several sources from the Cowles Library collection to find details about each home, business, public building or landscape shot. Sources included Des Moines city directories published by R.L. Polk & Co., Johnson and Brigham's "History of Des Moines and Polk County," Charles Ritchey's "Drake University through Seventy-five Years," and Sara Mullin Baldwin's "Who's Who in Des Moines, 1929."
Cowles Library also hosts digital collections that include images of the Drake Relays and legendary Drake football player Johnny Bright along with thousands of editorial cartoons by Ding Darling, the Pulitzer Prize-winning Des Moines Register cartoonist. The collections are available online.