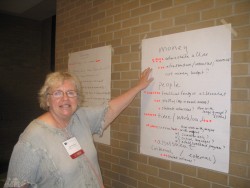 Jan Marston discusses resources needed for innovative programs.
CONTACT: Jan Marston, 515-271-3814, jan.marston@drake.edu;

Lisa Lacher, 515-271-3119, lisa.lacher@drake.edu
After the first Russian lessons at the Network for Effective Language Learning conference, Pete Smith, assistant vice president of academic affairs at University of Texas-Arlington, quipped that no blood had been shed, or 911 calls made.
The 32 educators attending last week's 5-day conference were learning Russian as a means to understand how the Drake University Language Acquisition Program (DULAP) is conducted.
Jan Marston, director of DULAP and project director for NELL said Russian was chosen as the language to learn because a lot of people have not studied the language before.
"The teacher was encouraging and patient," said Francis Rogers, a delegate from the Colleges of the Fenway in Boston. "He gave me tools to use that prior language classes didn't have. I struggled, but I got through it. DULAP has encouraged me to read more history and literature."
NELL was established by the Council of Independent Colleges to assist small and midsize colleges and universities in transforming their language instruction to meet the needs of the 21st century students. The W.M. Keck Foundation has provided a grant of $360,000 to the Council of Independent Colleges to implement NELL in cooperation with Drake.
DULAP brings students together with professional linguists, learning specialists, target language and civilization experts, and native-speaker tutors. Using Internet-based resources and tools, DULAP students connect with real-life native speakers and writers while learning to use target-language materials that have been written by and for native speakers. In addition, each DULAP student creates an online-portfolio that documents his or her progress and external examiners provide an independent evaluation of each student's work. The program also emphasizes intercultural competence and encourages all students who study a language to use it in an intensive immersion experience abroad.
Marston said the conference was a success.
"This has been fabulous. I am so excited," Marston said. "This week has been so much richer than I had imagined. It has brought together so many ideas."
Rogers, who works in the Colleges of the Fenway's College of Pharmacy and Health Sciences, said he is looking to take the ideas he learned from the week and put them to use in the school's English as a Second Language program. He said most students coming to the program are from Pacific countries and India. He would like to integrate parts of DULAP into an English course instead of applying it to foreign language teaching.
The DULAP approach would allow most small to midsize campuses the possibility to offer critical languages like Chinese, Arabic, Hindi and Japanese in addition to more traditional languages such as French, German and Spanish.
Joseph Lovano of Bethany College said the information provided in the sessions was very informative. He has been writing in his blog that he has been inspired to think of different approaches to teaching and learning language. Lovano said he was looking forward to incorporating more technology into language studies.
"With this approach, you can use technology at all levels in a positive way," Lovano said.
Lovano also said he liked that the schools can pick and choose the aspects they like of DULAP to expand their foreign language offerings, but maintain the programs that already exist.
Sarah Stoycos, program officer for The Council of Independent Colleges, said she was pleased to see the excitement and enthusiasm that the participants had throughout the conference. During breaks and meals, she heard several people talking about the ideas they would take back to their respective campuses.
The participating institutions were Bethany College, Bethany, W.VA.; Carson-Newman College, Jefferson City, Tenn.; Colleges of the Fenway, Boston; St. Joseph College, West Hartford, Conn.; Salve Regina University, Newport, R.I.; St. Edward's University, Austin, Texas; and Tougaloo College, Tougaloo, Miss.
After the session, the participants will stay connected through an online community Web site that will create a permanent alliance and the institutions will be able to share their best practices and materials. In addition, consultants will visit each campus and provide additional guidance.
Twenty-four liberal arts colleges will be selected to participate in NELL over three years. Subsequent workshops will be offered in the summers of 2008 and 2009.