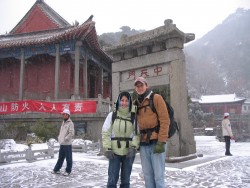 Renae Steichen, AS'06, and Nathan Wallace, AS'06, enjoy sightseeing during their year in China.
By Tory Thaemert Olson, JO'05
With a college degree in one hand and a plane ticket in the other, 21 Drake grads will take off in August to land their first job with the Teach in China program for the 2007-08 academic year. Four graduates registered for a second or third year to fuel their hunger for international experience.
"What we want at Drake, and why we are doing this, is to facilitate a life changing experience by living in a developing country" said Mark Ferrara, director of the Chinese Cultural Exchange Program (CCEP) and assistant professor of English at Drake.
This life-changing experience is one reason why Drake grads are choosing the program. Graduate school admission, travel, international experience and the 2008 Olympics have also drawn participants to the program.
Jenna Wilcox, AS'06, hopes to gain even more than "professional experience, personal experience, life experience and fun." After teaching, she plans to stay for the 2008 Summer Olympics in Beijing.
"I'm hoping to be a volunteer at the Olympics," she said, "I've never seen the Olympics before and I'll have a year of experience in the country by then."
Wilcox, who plans to become a physician, is one of 65 graduates who have trained for the program since it began in 2004. Once accepted, participants are placed in Hebei Province, China, Iowa's sister state, in Chongqing and Kunming. Graduates teach mostly middle school through college level English classes for16-18 hours per week through September to June, with a break for the Chinese New Year, and earn 3,000 to 3,500 Yuan per month (about $458 US dollars).
Before their departure, grads take an intense two-week training session to learn about teaching English, the Chinese culture and prepare for challenges such as the language barrier and being a minority. Training gives graduates the basics, but they are expected to spend the summer learning and preparing, Ferrara said.
"Learning those basic skills really helped me when I got to China," said Renae Steichen, AS'06. "Also, learning about the culture was very helpful because it made things a bit less shocking when I got here, and learning the history helped me understand why things are as they are today."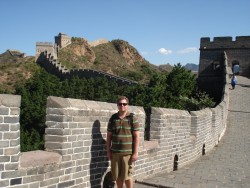 Brock Bethke, AS'06, explores the Great Wall — one of the most popular sightseeing destinations for Drake alumni teaching in China.
In addition to teaching, Steichen found time to travel extensively.
"By the end of my year, I will have seen nearly all of the major sights and cities in this country," she said. "I have seen such a huge range, from big cities like Shanghai and Beijing, to natural areas like the Gobi Desert and Guilin mountains, and to the rural countryside areas where some of my students' families live."
Steve Sandie, AS'05, will return for a third year in the program this fall, but his journey hasn't been without hardships. "The list of challenges I've faced is innumerable," he said. "From massive construction projects to water shortages and power outages, my experience in Chongqing has been unpredictable. The most significant challenges have been adapting to everyday life in China and coming to understand the Chinese education system."
When asked why he's staying another year, Sandie said, "I can't think of anything I'd rather be doing a few years out of college than living and working in a foreign country, making friends from all over the world." As for his future, he said he would consider returning to China again because it will play an increasingly pivotal role internationally, economically and politically.
With knowledge of the Chinese culture, these graduates have armed themselves with international experience that will benefit them wherever they go. "No matter where our participants find employment after completing the program," Ferrara said, "when potential employers see that they've taught in China for a year it really sets these Drake grads apart."
To view more photos of Drake grads in China, visit the gallery. For more information and blogs on the Teach in China program, visit: www.drake.edu/international/ccep/teach/.