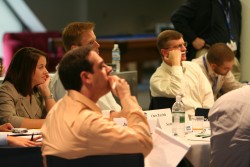 Attendees included (left to right) Elizabeth Erwin, of ABC5 in West Des Moines; Jim Pinkerton of WSBT-TV in South Bend, Ind.; Chris Parrish, of ABC5 in West Des Moines; and Dan Bowerman, of the Quad-Cities Times in Davenport, Iowa.
Budding journalists return to newsroom with fresh perspectives after attending Drake, Poynter Institute seminar



Up-and-coming journalists from across the nation traveled to Drake University recently for myriad perspectives on political campaign coverage. Drake University's School of Journalism and Mass Communication brought 24 reporters — each with less than two years' political reporting experience — to the three-day seminar, which was hosted in partnership with the Poynter Institute, Des Moines Register and Iowa Public Television.
The "McCormick Tribune Specialized Reporting Seminar in Covering the Presidential Nominating Process" featured several seasoned political reporters and experts on political campaigning.

Events began Monday, June 4, with a community discussion at Iowa Public Television and continued through Wednesday, June 6, at Drake's Olmsted Center.
"Some of the seminar's most informative points came from the public during Monday night's event," said Bill Dillon, a reporter for the Ames Tribune in Ames, Iowa. "That was a great way to start out the seminar — to hear how the public thinks we should be covering the campaigns. Their comments sort of set a foundation for our discussion the rest of the week."
A panel of four experts — former Iowa Gov. Tom Vilsack, The Des Moines Register Editor Carolyn Washburn, political consultant Matt Dowd and Iowa pollster Ann Selzer — fielded challenging questions, discussed the role of the media in covering the Iowa caucuses and addressed audience concerns about how reporters might more effectively cover the 2008 presidential campaign. Moderating the event was journalist and author Tom Rosenstiel, director of the Project for Excellence in Journalism, a think tank that studies contemporary journalism issues.
The reporters chatted with MSNBC.com's Editor-In-Chief Jennifer Sizemore and political editor Lauren Vicary about reporting for the Web. That sparked conversation about the Web as an interactive, in-depth reporting tool. Questions flew back and forth: "What do we mean when we say 'multimedia?'" "Is this story best served by text, video, sound or all of the above?" "Does anyone even look at this stuff?"
Among several other events, the journalists also took reporter-to-campaign relationship advice from Dowd and David Yepsen, GR'85, long-time Des Moines Register political columnist; Butch Ward, Poynter Institute Distinguished Fellow; and Dave Busiek, news director of KCCI-TV.