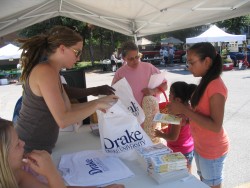 Drake senior Terra Webb hands bagfuls of free Drake goodies to Talia Negrete, 12, and Jayda Anaya, 6, at the Drake Neighborhood Farmers' Market.
Drake students promote teaching and learning at the Drake Neighborhood Farmers' Market



Students from Drake University's School of Education are giving away more than 100 free books to young visitors of the Drake Neighborhood Farmers Market this summer as a way of promoting youth literacy and learning. Five titles, spanning three difficulty levels, are offered. Half of the books were handed out June 20; the other half will be available at the market July 11.
"Children tend to read less during the summer because they don't have access to books through the school library, so anything we can do to get books in the hands of children is great," said Jill Johnson, assistant professor of education. "We also want to remind parents that summer reading is important."
Kerwin Dobbins, a program assistant for teaching and learning at Drake, said that the School of Education's presence at the farmers' market is a community-building strategy in addition to a way of promoting youth literacy.
"We are giving our students a chance to take part in service learning, which is an integral part of academics and study at any college or university," Dobbins said. "We also want to introduce the community to the School of Education and show them the great teaching opportunities we provide," Dobbins said.