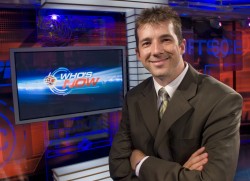 Gary Parker, JO'89
By Aaron W. Jaco, AS'07, JO'07
Gary Parker, a 1989 graduate of Drake University, created the concept for a new month-long ESPN television series called "Who's Now," scheduled to premier on "SportsCenter" at 7 p.m. Eastern time Friday, June 29.
One morning, between late night and early morning shifts as ESPN's highlight producer for all live studio shows, Parker woke up with an idea that would pit top athletes from across the sports spectrum against one another to determine the ultimate sports star.
ESPN senior coordinating producers loved his idea, so the game was – and is – on.
Thirty-two athletes, selected based on fan nominations, will face-off in a bracket-like format to become the "Who's Now" athlete on "SportsCenter." June's nominating process to select the final 32, and July's daily single-elimination results, will be based on criteria including individual performance and team success, as well as marketability, endorsements, commercials and celebrity status.
During the "Who's Now" segment in every July "SportsCenter," Stuart Scott will host a panel that will debate each new match-up, setting off a day of fan voting on ESPN.com that, along with the panel, will determine the winner who will be announced the next night.
Bracket-by-bracket match-ups and elimination voting will start on the Sunday, July 1, 10:30 a.m. "SportsCenter," culminating with the July 31 championship round between the final two athletes. The final result will be announced at 6 p.m. on the Aug. 1 "SportsCenter."
Parker grew up in Santa Monica, Calif., and attended Santa Monica Junior College for one year before enrolling in Drake's School of Journalism and Mass Communication. He says he came to Des Moines for a taste of all four seasons and a bit of famed Midwestern hospitality.
"I had a lot of fun at Drake," Parker said. "It's a great school, and when you put the books down for the day you have nice people to hang out with. I made a lot of lifetime friendships there."
Parker met his wife, Kris, at Drake, where she earned a bachelor's degree in nursing through a joint program with the Iowa Methodist School of Nursing.
Also while at Drake, Parker interned at WHO-TV alongside associate producer Pat Parris, who is now a sports reporting anchor at FOX St. Louis. After graduation, Parker worked for a Burt Reynolds-hosted variety show called "Conversations With…," where he had the opportunity to meet actors Jimmy Stewart and Ginger Rogers. He also spent three years on the set of "American Gladiators."
Parker has won three sports Emmy awards in the category of live daily studio show for his work on SportsCenter. He joined ESPN in 1994 as a production assistant and has been coordinating highlights for all live studio shows, including "SportsCenter," "Baseball Tonight" and "NFL Prime Time," for six years.
"Working at ESPN is unlike any other environment that I've been affiliated with," Parker said. "It's a rock-and-roll environment. You put on your hardhat and you bring your lunch bucket and you're all business when you walk in there. We're here to make sure that the content is where it needs to go so people like you or me who watch the game will say, 'Wow, that was a great highlight.'"
Normal shifts often have him working until 2 or 3 a.m., sometimes later, at the ESPN corporate headquarters in Bristol, Connecticut. Yet he gets up early to drive his two kids to school and heads right back to work.
When does he sleep? "Exactly," Parker said, and left it at that.
Parker said he hopes the "Who's Now" competition will finally clear up a long-time argument he's had about the ultimate athlete – tennis champion Roger Federer or golf pro Tiger Woods. He says one of those two has a good chance of winning the competition. But, then again, he has a certain affinity for Kelly Slater, the world surfing guru who acted on "Baywatch"… and he might be inclined to put his money on Floyd Mayweather Jr., "the face of boxing."
Anyway, it's not his decision. It's yours. Find out more online at www.ESPN.com.