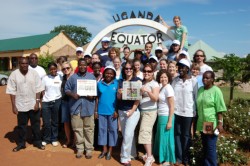 Students and faculty stand at the Equator with copies of the Des Moines Register and Des Moines West Register newspapers.
By Aaron W. Jaco, AS'07, JO'07
On a scenic afternoon trek with Drake University students and faculty to Lake Bunyonyi in Uganda, James Akampumuza casually shares his knowledge about the area and its agriculture. Conversationally, the Uganda native and dean of the faculty of commerce at the Makerere University Business School, transforms a beautiful afternoon hike into one of many unparalleled out-of-class learning opportunities for the travelers.
Twenty-one Drake students and four faculty took the 23-day "Sustainable Development in Sub-Saharan Africa" travel seminar to Uganda, split between daily in-class lessons, academic exploration and plenty of sightseeing.
"The students were probably learning as much out of the classroom as they were in the classroom," said Deb Bishop, assistant professor of management and director of Drake's John Pappajohn Entrepreneurial Center.
In the mornings, faculty from Drake and MUBS lectured on many subjects, including a full day of presentations on microfinance, an economic strategy in which entrepreneurs are given small loans — sometimes as low as what would equate to 50 American dollars.
"These small loans help rural entrepreneurs transition from very low-level to more long-term businesses," said Tom Root, professor of finance. "A banana vendor, for example, may use the loan to establish a reliable booth from which to make sales."
Lecturers included Dr. Nkote Nabeeta, a professor at MUBS and George Mayanja Byekwaso, program manager of the microfinance organization FSA International Uganda Ltd. The lecturers shared everything from general information to more in-depth explanations of application procedures and interest rates charges.
Students also learned about human rights, prisons, labor rights, constitutional rights, history — pre- and post-colonization — non-governmental organizations, tourism and nature. Afternoon trips allowed them to explore many of those subjects first-hand.
One afternoon, following a morning lecture about AIDS education and treatment, students visited an AIDS clinic. Former Student Body President Lauren Smith, AS'07, counts that among her most vivid memories of the trip.
"We visited with medical doctors, saw the drugs and learned about HIV testing," said Smith, originally of Kansas City, Mo. "We also heard from a group diagnosed HIV-positive, who preach about HIV through the arts by performing music around the country. AIDS is very openly talked about in the community and government in Uganda. The first thing you see in the schools — and not only the schools, but everywhere — is awareness about HIV and how to prevent it."
Julie Leifeld, a junior math and physics major from Woodbury, Minn., was moved by the performers who weaved personal stories into the song lyrics. "One man said he was fired from his job because he had AIDS. Another woman's husband died and his family ostracized her from the home she helped build. People with AIDS are treated differently there. Yes, educational programs are very open — our bus even had an AIDS message on it — but people are being taught to avoid AIDS and there's still a strong stigma against people who have it," Leifeld said.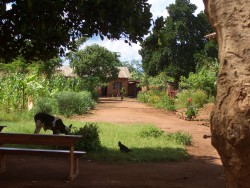 Another day, the students broke up into groups and visited local farmers, including the family of Jimmy Senteza, Drake associate professor of finance. "The gentleman we talked with there was very, very excited for us to come," Smith said. "He showed us his cocoa and coffee farm and prepared an official African meal for us."
The itinerary was booked solid, but also subject to sudden change. The students were happy to be flexible because there was so much to see and do.
Outside the cities, they saw wide open savannahs, huge tea estates, terraced hills, crystal blue water and dry red dirt that covers the shoes and creates blinding dust storms when the wind blows. On a jungle tour in Queen Elizabeth Park they saw monkeys, exotic birds and the equatorial line. On one occasion as a few of the students with a group of villagers tried to get a vehicle out of the mud, men with guns stood guard against two nearby hippopotami, which reportedly kill more people than lions. The students moved on when other help arrived.
In crowded marketplaces, walking single-file among lines of vendors, the students tasted fresh fruits – many varieties of bananas, papaya, watermelon – as well as Chinese food, Indian food and fried grasshoppers that, according to Smith, taste like fried onions. Lauren Susral, a senior art history major from Mundelein, Ill., bought and consumed a bag of fried ants.
Smith talked with one resident about Des Moines-area weather. "He said he had visited another place in Africa where it was 60 degrees outside and he had been freezing – I told him he probably couldn't handle Iowa," Smith said with a laugh. "He had never seen snow, so we were trying to explain to him what that is."
Indescribable poverty was everywhere.
"The poverty is one of the hardest things to describe," Smith said. "There are thousands and thousands of houses or shacks that are assembled from whatever can be found — mud and sticks — and they sit next to enormous houses that are gated and lined with broken glass to keep other people out. It's just crazy."
Leifeld saw a woman in a business suit and high heels entering a mud hut draped with a curtain. "You have to be a shop owner or a large home owner to have a door," Leifeld said. "They must not have a lot of theft." She said she never felt unsafe and that Ugandan residents were friendly and welcoming. Bishop and Smith also echoed those sentiments.
As one way of showing their appreciation to the citizens of Uganda, Drake students provided a truck full of clothes to an organization that gives them to young refugees from the war in northern Uganda.
"It was a shock when we arrived in Uganda and another shock to be back in the United States," Leifeld said. "But both times I had 24 hours to mentally prepare."
A gallery of photos from the trip is available online.