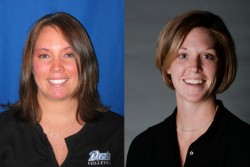 Erin Hirsch and Allison Pohlman
Drake recently announced the hiring of assistant coaches for women's basketball and volleyball. Drake women's volleyball coach Amy Farber Knowles named Erin Hirsch an assistant coach, and Drake Women's Basketball Coach Amy Stephens announced the hiring of Allison Pohlman.
Both coaches attended the University of Northern Iowa and have distinguished careers in the Missouri Valley Conference.
Hirsch joins the Bulldog staff after spending the 2006 season as an assistant coach at Upper Iowa.
Hirsch has been an active coach in USA Club Volleyball since 2002, including leading her squad to four national tournament appearances.
While at Northern Iowa, she was a member of three Missouri Valley Conference championship volleyball squads (2000-02). The Panthers made the NCAA Tournament during each of her first three campaigns.
Pohlman joins the Bulldog staff after spending the past seven seasons as a coach at Northern Iowa, including serving as the Panthers' associate head coach during the 2006-07 campaign.
"We're excited to have Coach Pohlman join our coaching staff," Stephens said. "She's relentless in her pursuit of excellence and we like the way she fits the philosophy we strive for at Drake. She's built a great reputation in the state of Iowa, and we intend to capitalize on her strengths as a coach, a recruiter and a relationship builder."
One of the best all-around players in Northern Iowa history, Pohlman — then named Starr — competed from 1997-2000 as the centerpiece in the rejuvenation of Panther basketball under recently retired head coach Tony DiCecco. In 1997 Pohlman was named to the MVC's All-Freshman team. Her final three years, she was named All-MVC first team and to the Valley's All-Defensive Team.
Pohlman arguably had one of the finest single seasons in UNI history in 1999-2000, leading the Panthers in steals and assists while setting school records for points and rebounds in a season. A runner-up to Jackie Stiles for the league's Player of the Year award, she was named the Valley's Defensive Player of the Year, as well.
She capped her career by ranking second in UNI history with 1,463 points, third with 711 rebounds, second with 274 steals, fifth with 278 assists. She is the school record holder for free throws made, free throws attempted, offensive rebounds, defensive rebounds, double-doubles and steals per game.