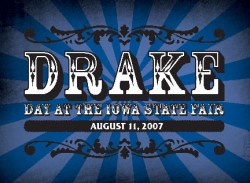 STEP right up and feast your eyes on a stunning all-day circus sideshow at Drake Day at the Iowa State Fair, Saturday, Aug. 11.
INVESTIGATE Drake University's most notorious myths and legends.
WITNESS the World's Smallest Spike and POSE for a photo with his bone-chilling older brother, the Largest Spike in World History.
And that's not all! Grab free goodies, meet Drake athletes, chat with alumni and much, much more, all at the Drake tent.
The University needs volunteers to help keep the day flowing smoothly. Time slots are for only two hours and include free admission, a free parking pass and t-shirt. To volunteer, contact Michelle Thilges in Marketing and Communications at 515-271-3163 or mcstaff@drake.edu.
Drake also will have a booth in the Varied Industries Building throughout the Iowa State Fair, Aug. 9-19. Stop by to get your Drake tattoo, sign up for the daily prize drawing, and meet Drake "celebrities" and staff.