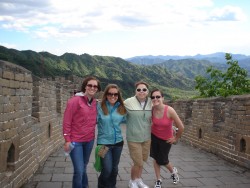 Ellen Johnson, Amanda Skinner, Rachel Traficanti, and Stephanie Garinger at the Great Wall of China.
Drake students explore China on three-week travel seminar
By Katie Shaw, AS'07, JO'07
Twenty-three Drake University students are recovering from jet lag and a whirlwind three-week trip to eastern Asia after returning from the Travel Study Seminar in China. The course, titled "The 'Middle Kingdom' in a Global World: Considering Family, Self and Nation in a Changing China," allowed students to experience Chinese history, politics, culture and society first hand.
The group of Drake undergrads, graduates and RaySociety members, led by Judy Allen, associate professor of psychology, and Joseph Schneider, the Ellis and Nelle Levitt professor of sociology, crisscrossed the continent from the eastern coastal cities to Tibet and back through the southwest, visiting sites of historical, religious and cultural significance.
"The highlight of the trip, for me, was seeing the Great Wall," said Ellen Johnson, a senior psychology and sociology double major from Mason City, Iowa. "It was amazing to be standing on a structure than can actually be viewed from space and humbling to understand how small one is within the larger world."
The group spent three days attending seminars on Chinese history, philosophy, law and Confucianism at the Southwest University of Political Science and Law in Chongqing. Visits with Chinese families in Tianjin allowed students the opportunity to leave the well-trodden tourist path and get a closer look at the Chinese culture and lifestyle.
"Our intent was to create an introduction to life in 21st century China, to create an understanding of the way in which Chinese society operates," Schneider said.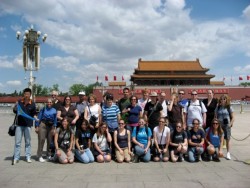 Drake's travel study seminar students gather for a photo in front of the Forbidden City.
Students prepared for the course by attending matriculation classes before leaving the United States. In addition to completing a substantial set of readings and maintaining daily journal entries throughout their travels, students are required to complete an extensive, independent research project regarding effects of globalization on a specific aspect of recent or contemporary Chinese life, history or culture.
"The travel study seminar fit in perfectly for me," Johnson said. "My interests lie in China's history and politics in particular. But I came away from the experience with much more than that."
View more photos of the travel seminar in the online gallery.