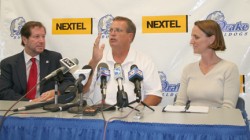 Steve Loney
Loney named interim head football coach
Steve Loney, who has 30 years of coaching experience at the pro and collegiate levels, has been named interim head football coach at Drake University.
The former Arizona Cardinals offensive line coach was lounging in a boat near his lakefront retirement home when Drake Athletic Director Sandy Hatfield Clubb called to discuss the open head coach position with him. If it had been anyone else on the phone, Loney said he might not have answered.
"If Joe Schmo had been calling, I would have ignored it, cracked open a Diet Coke and took another run around the lake," Loney said. But he and Hatfield Clubb have been friends since Loney's daughter, Kylan, played women's basketball at Arizona State, where Hatfield Clubb was the assistant athletic director before joining Drake last summer. He gladly took the call.
Loney succeeds Rob Ash, who served as head football coach at Drake for 18 years before being named head coach at Montana State June 11.
Drake President David Maxwell praised Ash for an exemplary run with the Bulldogs.
"Rob Ash did a wonderful, wonderful job for Drake over 18 years and has left us with a wonderful program that has an incredible record of success and integrity, and that has brought really wonderful players to Drake. We'll miss him," Maxwell said.
With the football team reporting to preseason camp in less than two months, Loney will begin his position at Drake immediately.
Hatfield Clubb said Loney meets the three most important requirements that she and Drake President David Maxwell set for a head coach.
"Our number one priority is finding a man of character. There is nothing you can do to supplement a person's character, and we were not willing to budge from that," Hatfield Clubb said. "Number two is somebody who fundamentally understands the 'student' in student athlete. Number three – and equally important – is somebody who knows how to win. Steve Loney certainly exemplifies everything that we're looking for in Drake football," Clubb said.
The Marshalltown, Iowa, native has enjoyed success in developing prolific offensive attacks at both the National Football League and collegiate levels, including Iowa State and Minnesota.
"I know that every decision [Loney] makes will be in the best interests of the University," Hatfield Clubb said.
Loney has agreed to coach the Bulldogs for one season. Anything longer would be "speculation," according to Hatfield Clubb, but she did not rule out the possibility of an extended stay for Loney.
"I know and love this man, and am thrilled that he has agreed to stay with us for a year," Hatfield Clubb said. "If it's something that he enjoys and is excited about, I would be the craziest person in town to go running the other way." But at the same time, Hatfield Clubb said that Loney was capable of coaching at all levels and that she did not want him to feel obligated to Drake University.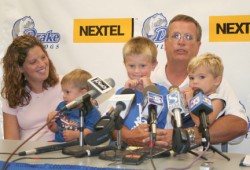 Steve Loney (behind) with his daughter, Kate, (left) and three grandchildren (right to left): Burke, Tucker and Nash.
Loney served as offensive line coach with the Arizona Cardinals last season. He came to the Cardinals after serving the previous four seasons with the Minnesota Vikings as their offensive line coach (2002-04) before being promoted to offensive coordinator in 2005.
During Loney's four seasons in Minnesota, the Vikings led the NFL in total offense in 2003 and set a team record for yardage in 2004. The Vikings led the NFL in rushing in 2002. Quarterback Dante Culpepper broke virtually every Vikings' passing record in 2004 and posted the fourth-best passer rating in NFL history.
Loney enjoyed three coaching stints at his alma mater Iowa State as the offensive coordinator and offensive line coach (1995-97, 2000-01). During his third stay with the Cyclones, Loney's offense produced back-to-back bowl seasons in 2000 and 2001. In 2001, the Cyclones averaged 423.1 yards total offense per game and 26.9 points per outing. In 2000 his offense averaged 424.4 yards per game, the third-best total in school history.
Loney was the offensive coordinator and offensive line coach at the University of Minnesota in 1998 and 1999. Under Loney's guidance in 1999, Minnesota was second in the Big Ten Conference and 11th in the nation in rushing offense. The Golden Gophers averaged 415.4 offensive yards and 31.6 points per game. In addition to setting five school records in 1999, Loney's offense produced All-Big Ten first team rusher Thomas Hamer (1,326 yards) and first-team All-American center Ben Hamilton.
From 1995-97, Loney was offensive coordinator and offensive line coach at Iowa State, where he produced the only tailback in NCAA history to rush for a pair of 2,000-yard seasons in 1995 and 1996, Heisman Trophy finalist Troy Davis. Troy's brother, Darren, followed that feat with 1,005 yards rushing in nine games in 1997.
Loney was assistant head coach and wide receivers coach at Connecticut in 1994 and assistant offensive line coach for the NFL's Arizona Cardinals in 1993. From 1989-92 he was the assistant head coach/offensive line coach under Earle Bruce at Colorado State. He helped lead the Rams to the school's first bowl appearance in 48 years.
The 55-year-old Loney was the assistant head coach and tutored the offensive line at The Citadel from 1984-86. He was the head coach at Morehead State from 1981-83 after serving as the offensive coordinator and offensive line coach there from 1979-80.
He was the head coach at Leavenworth (Kan.) High School in 1977-78 and the offensive coordinator/offensive line coach at Missouri Western from 1975-76.
A letterwinner on the offensive line for Iowa State during his collegiate career, Loney was a member of head coach Johnny Majors' 1971 Sun Bowl and 1972 Liberty Bowl teams. After earning his bachelor's degree in distributed studies from Iowa State, he launched his coaching career in 1974 at his alma mater as a graduate assistant coach under Bruce while earning his master's degree in secondary school administration.