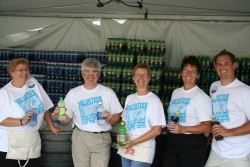 Among the dozens of alumni who volunteered at the Des Moines Arts Festival were (left to right) Linda Wilcox, JO'76; John Lloyd, LA'71, LW'74; Marcia Swinney-Shay, FA'80; Lisa Norbury Kilian, ED'83; and Drew Engebrecht, BN'02.
Amid the public's hunger for art, Drake grads help to quench a more tangible thirst
More than 180 volunteers — approximately half of them Drake alumni — practiced the fine art of refreshment at the Des Moines Arts Festival June 29-31.
The volunteers sold cold drinks at three tents on the festival grounds, taking the opportunity to enjoy the warm, breezy weather and meet other Drake graduates. The festival pays a commission based on the sales and these proceeds go toward the operations and programs of the Central Iowa Drake Alumni Chapter. Last year's commission totaled $3,100. This year's total won't be available for several weeks.
"It's an extremely well organized event," said Lisa Norbury Kilian, ED'83. "We're having a great time and making fabulous friends. The artists we've met said they love their accommodations in Des Moines and love coming back to the festival every year."
From beneath their shady tent, the volunteers took in the sights. "A woman dressed as a peacock walked by on stilts earlier," Norbury Kilian said. "Did you see her?"
No… but had she seen the juggling Elvis impersonator on a unicycle?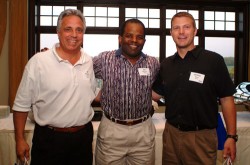 Frank Ursini, BN'73; Joe Welcome, GR'84, and Jeremy Glenn, BN'94, were among the members of the Windy City Golf Outing Committee this year.
Windy City Golf Outing raises spirits, scholarship support
More than 60 Drake alumni, parents and other friends enjoyed a great day on the course at the 13th annual Windy City Golf Outing on June 14 at the Makray Memorial Golf Club in Barrington, Ill. They swung through a challenging course with a best-ball format, purchased raffle tickets for prizes, and bid on other items in a live auction "called" by auctioneer extraordinaire, Frank Ursini, BN'73.
They also raised approximately $3,500 for Drake's Chicago Alumni Scholarship Fund, which has nearly reached the $25,000 minimum amount required to become "endowed" — at which point the fund will continue into perpetuity, and its earnings will be used to provide scholarships for Chicago-area Drake students.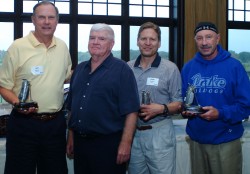 The winning team, with a combined score of nine under par, included (left to right): Jeff Barrett BN'71, Coach Tom Davis, Keith Carlson BN'75, Dick Worcester LA'71 and Bill Esser LA'74 (not pictured).
Highlights of the day included a hole-in-one by Nancy McKeever, ED'74, and a score of 9 under par 61 by a fivesome of Jeff Barrett, BN'71; Keith Carlson, BN'75; Bill Esser, LA'74; Dick Worcester, LA'71; and former Drake Head Men's Basketball Coach Tom Davis, now special assistant to Drake's athletic director.
Other trophy winners at the event were Barb Best, ED'72, who made the longest drive and got closest to the pin; Jeff Barrett, also closest to the pin; and Steve Sawtell, BN'92, longest drive.
Windy City Golf Outing Committee members were Ursini; Lowell "Milo" Plavec, LA'70; Jeremy Glenn, BN'94; Joe Welcome, GR'84; Art Renier, BN'94; and Jon Lueken, BN'92.
Alumni who are interested in helping with next year's outing, tentatively scheduled for June 20, 2008, are invited to contact John Brown, assistant director of alumni and parent programs, at 515-271-3378 or john.brown@drake.edu.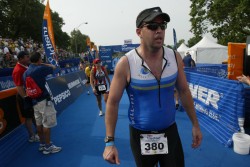 Nolan Mitchell, AS'95, finished in two hours and 59 minutes.
Drake grads swim, bike, run
Nolan Mitchell, AS'95, and Bryan Ptak, JO'96, seasoned triathlon participants and buddies from their time at Drake, drove from Chicago to take part in the amateur division of the Hy-Vee Triathlon held in Des Moines in June. The event hosted athletes from around the world who gathered in the heart of the Midwest to compete in the inaugural event.
"Bryan and I agreed that Des Moines did a wonderful job of hosting the triathlon. It was a good, challenging course and a lot of fun," Mitchell said. "Having so much fan support truly kept me motivated. Just knowing I completed my first race of the season and beat my goal was a great feeling. Then adding all the fan support cheering me on made it even better."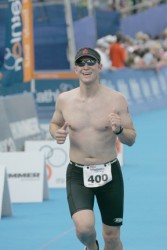 Bryan Ptak doffed his shirt as the intense heat and high humidity took their toll on competitors.
"The community support was amazing," Ptak said. "Along the bike portion there were people in their yards cheering us on and, approaching the finish line near the Capitol, all the people cheering in the stands was incredible."
Doug Schaefer, AS'99, is a relatively recent triathlete who credits his wife, Tracy Schaben, BN'98, and family for supporting his endeavor. Like Ptak and Mitchell, he said the triathlon fans also provided critical support.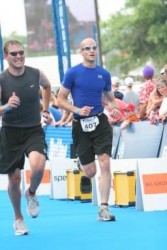 Doug Schaefer, right, appreciated the encouragement of boisterous fans.
"Most notably there was a group of about 20 or so guys gathered on Grand Avenue where we had to tackle a hill on the last part of the bike ride. They were fanatics and were hooting and hollering and banging cow bells. There was even a guy dressed in a devil suit who was encouraging bikers to pop wheelies. When competitors did so, the group erupted in cheers. It was exactly what we needed at that point of the race!"
Several other Drake graduates participated in the triathlon. The following alumni completed the 1,500 meter swim, a 40K bike ride and a 10K run:
| | |
| --- | --- |
| Participant | Time |
| Rob Fornoff, AS'97 | 2:47:33 |
| Tom Hamilton, JO'87 | 2:15:50 |
| Trisha Haszel, AS'03 | 3:35:58 |
| Heather Martindill, ED'98 | 3:23:43 |
| Nolan Mitchell, AS'95 | 2:59:00 |
| Bryan Ptak, JO'96 | 2:31:58 |
| Doug Schaefer, AS'99 | 2:34:56 |
| Tyler Schwiesow, AS'99 | 2:57:12 |
| Chad Westberg, AS'98 | 3:45:41 |
"To anyone considering a triathlon, I say, 'Go for it,' " Mitchell said. "You can start with a sprint to get used to it and work your way up to longer distances if you want. What is great about the sport is you see all types of people competing — young to old, thin to heavy-set, athletic to non-athletic. It's a great life long sport and is very addictive."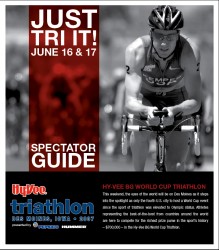 Two Drake graduates — Donna Tweeten, J0'85, and Chris Friesleben, ED'69 – handled all of the marketing, public relations and media relations for the Hy-Vee Triathlon. The Des Moines Register was one of the official sponsors of the event and WHO-TV was a media partner.
"Without a doubt we could not have successfully marketed the Hy-Vee Triathlon without the extensive support of the local media – both broadcast and print," said Tweeten, assistant vice president of communications and brand management. "While they always remained extremely objective when covering the event (clearly aware of the fact that a major retailer was sponsoring it) they also understood the magnitude of the triathlon and the importance it played in showcasing our city and state — not to mention the positive economic impact it had on both."
Hy-Vee issued more than 60 media credentials for the triathlon. While the majority of media outlets were from central Iowa, there were a half dozen or so reporters and photojournalists from outside Iowa and, of course, representatives from the sport's most popular trade publications — Inside Triathlon and Triathlete magazine. Hy-Vee expects more national media for next year's triathlon because of the significance of the event on the USA Olympic team selection process for the Beijing games.
"Both the ITU and the USAT complimented our organizational efforts (of the entire team) and athletes were overwhelmed by the reception they got in Des Moines," said Friesleben, assistant director of communications. "Tim Yount, senior vice president of marketing and communications for the USA Triathlon, said that our age-group event was the most successful first-time triathlon he's ever seen and that it was the largest American crowd to watch a World Cup race on U.S. soil. After weeks of preparation and nights with little or no sleep, that was good to hear!"
African-American Alumni to celebrate reunion Sept. 28-30
Drake invites all African-American alumni and their guests to reconnect with one another and with the University at a special all-class reunion on campus Sept. 28-30. Themed "With Pride and Purpose," the reunion will be a wonderful opportunity for alumni to celebrate their pride in Drake and affiliation with fellow alumni.
Drake held its first-ever African-American alumni reunion in Chicago in 2003. With the great success of that event, several alumni – including Valerie Warnsby, BN'91; Kelly Redmond, JO'90; and Joe Welcome, GR'84 – are working on plans for this year's reunion. Holding the event on campus this time will enable alumni to reconnect with Drake as well with each other, and creates opportunities to engage current students.
Tentative activities include:
Friday evening, Sept. 28: Welcome reception at the Black Cultural Center
Saturday, Sept. 29: Registration and campus tours, morning; alumni luncheon and networking; afternoon breakout sessions on reinvesting and reconnecting with Drake University; evening reception and banquet
Sunday morning, Sept. 30: Alumni celebration and continental breakfast
Invitations will be mailed to alumni soon, and information will be posted on the Drake alumni Web site at www.drake.edu/alumni.
Think blue…drink pink
Los Angeles-area alumni and the Office of Alumni and Parent Programs are offering a great night at the Hollywood Bowl on Sunday, Sept. 16. Reconnect with old friends and meet a few new Drake alumni at a pre-concert picnic, and then enjoy musical magic under the stars in one of the world's largest natural amphitheaters.
The 7:30 p.m. concert will feature the 14-member band Pink Martini, recreating the legendary L.A. nightclub Cocoanut Grove, where Frank Sinatra, Sammy Davis Jr. and others wowed audiences. Fireworks will fill the sky after the concert.
Enjoy the pre-concert picnic starting at 5:30 p.m. at the Camrose Picnic Area (area 15). Bring your own picnic and a dessert — or shaker of martinis — to share with other Drake alumni and friends.
Concert tickets are $40 per person. If you already have concert tickets, please join the group for the picnic.
The Hollywood Bowl is located at 2301 N. Highland Ave., just off the Hollywood Freeway. Information about the concert, maps, and other aspects of the Bowl is available on the Bowl's Web site at http://www.hollywoodbowl.com/. Information on the Bowl's shuttle to and from various areas — its "park and ride" option — is also available on the site.
A limited number of tickets are available for the show. To order tickets, please RSVP by July 15 by calling Barb Dietrich Boose, director of alumni and parent programs, at 515-271-3077. Tickets will be mailed.
Local Hollywood Bowl event organizers are Laurie Woken Manny, BN'82; Brian Harms, AS'89; Sean Gannon, AS'91; and Jeff Pielet, JO'76.