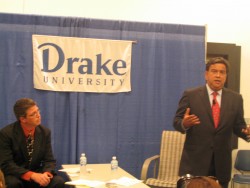 CONTACT: Lisa Lacher, 515-271-3119, lisa.lacher@drake.edu
New Mexico Gov. Bill Richardson, a Democratic presidential candidate, gave the public more to chew on than cookies at a recent "Cookies and Conversation" forum hosted by Drake University and IowaPolitics.com.
Richardson's favorite cookie – served in multitude at the event – is shortbread. His preferred discussion topic was education.
"This country has spent $450 billion in an emergency," Richardson said, referring to U.S. military spending in Iraq. "You know, we always have emergencies in this country. Katrina, that was a justified emergency. Iraq. But why can't we have an emergency that would give every American a chance at a college education?"
Richardson urged congress to "deauthorize" the war in Iraq, immediately withdraw U.S. troops from the country and establish an all-Muslim peacekeeping force there that would allow the U.S. to reallocate its military spending funds.
Richardson said that public school teachers tend to lack the necessary resources to provide the results demanded by the No Child Left Behind Act, which he described as a failed program. He called for an increase in instructors' salaries, particularly at the K-12 grade levels, and said higher learning institutions should be funded based on student performance rather than enrollment figures.
As president, Richardson said, he would also ensure that pre-school and all-day kindergarten were offered to every child in the United States.
Richardson also fielded questions on renewable energy, privacy rights, stem cell research and immigration.
Richardson said that the United States has a "moral imperative" to use less fossil fuels, cut down on greenhouse-gas emissions and switch to renewable energies. He said the U.S. can and should reduce foreign oil dependency by 50 percent in the next 10 years and to reduce greenhouse-gas emissions by 80 percent by 2050. He added that Americans must commit to more efficient energy usage in their homes and businesses.
A community member wanted to know how Richardson would select Supreme Court Justices. Richardson said he would make his selections based on the candidates' commitment to human rights and an individual's right to privacy. "I would ask candidates if they support the Constitutional rights of all Americans," he said, half-jokingly. He said he favored distinguished scholars and judges that respected certain legal precedents, especially the Roe v. Wade decision.
He did not tiptoe his way around more controversial topics, but did acknowledge that some people might not agree with his opinions. During the course of the conversation, he condemned discrimination based on sexual orientation and also expressed his support for stem cell research, noting that this country should be trying to cure diseases rather than sell medications.
On the immigration issue, Richardson said that stronger border security was a must but that a wall along the Mexican border was a bad idea. "What's going to happen if you build a 10-foot-high wall is that people are going to build 11-foot-high ladders," he said. He promoted, instead, a stronger relationship between the United States and Mexico – acting out an imagined conversation in which he asked the President of Mexico to provide incentives for citizens to stay in that country.
He also said that authorities should enforce sanctions on U.S. companies that hire illegal immigrants and called for the expansion of legal immigration quotas, especially for highly skilled foreign workers.
Though it was to be his last question of the day, Richardson asked to shift attention from the immigration issue again to education.
"Education is the key to all the questions you've asked me," he said.
Chris Dorsey, IowaPolitics.com bureau chief, moderated the discussion, which was co-sponsored by the Rocky Mountain News-Des Moines Bureau.
The next Drake-IowaPolitics.com "Cookies and Conversation" event is July 13; time and location to be announced soon. The candidate will be Delaware Sen. and Democratic presidential candidate Joe Biden.