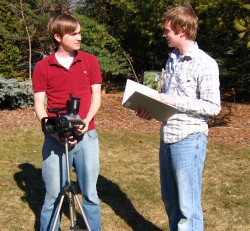 Brian and Steven Amos
Drake University junior Steven Amos, co-founder of Student Films Across America, cruised into Des Moines' Fleur Cinema on a tour bus sporting a blue-and-red festival logo and yellow Oregon license plates. His brother Brian, a student at Cornell University, said they had rented it from Texas.
"It was the cheapest we could find," Brian said. "They don't rent a lot of charter buses in the Midwest."
They're working on a shoestring budget, but they've got the knowledge, commitment, connections and — most importantly, films — required to reach 50 cities across the United States and Canada this summer.
Before they could even hit the road, they spent days wading through 600 original submissions. That required marathon viewing sessions, quite a bit of junk food and, according to Brian, "Some disregard for finals."
On the other hand, Steven, an entrepreneurial management major at Drake, said he applies the course lessons to things like financial planning and promotional strategies. "The entrepreneurial management major just started up this year, but I really tapped into it," he said.
The festival drew advance coverage in local newspapers and Steven did interviews with several radio stations on the morning of the Des Moines appearance.
The brothers from Sturgeon Bay, Wis., recruited a couple of famed Drake alumni — screenwriter John August and actor Michael Emerson — to help select the winning films and award more than $35,000 worth of prizes. One of the winning films had previously played at Sundance; another showed at Cannes.
The group's media coordinator videotaped Steven and Brian as they prepped for the show at Fleur Cinema. Later, Brian will edit the footage into a video blog that appears on the festival's Web site, http://www.studentfilmsacrossamerica.com/. He does the editing on the road using a laptop he's taped to a table "so it doesn't slide around."
At show time, Steven and Brian didn't quite have their opening speech ironed out — but that issue resolved itself when the lights dimmed and the films started prematurely. There was a documentary about a college kid with a legendary personality, a drama about a son who sees his father get beat up and a comedy about a ninja training school graduate who just can't find that dream ambassador-assassination job.
"Somos Las Bolas," by director Andrew Edmark, a University of Iowa sophomore, also played. It was a story of friendship, romance and ping-pong.
When the lights came on, it was time for audience members to vote on their favorite film. There was much conversation and respectful divergence of opinion on the matter. Results will be tallied at the end of the tour, scheduled to wrap up Aug. 7 in Los Angeles. The schedule for the tour is posted online.