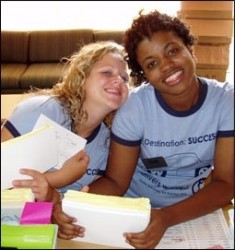 CONTACT: Lisa Lacher, 515-271-3119 or lisa.lacher@drake.edu
Drake University's summer orientation sessions for incoming first-year students start this week. The sessions are provided to help incoming students get acquainted with the campus, their classmates and faculty.
More than 175 students will be participating in the first session, which starts Thursday, June 7, and continues through Friday. Wanda Everage, vice provost for student affairs and academic excellence and Sentwali Bakari, dean of students, will give the opening remarks.
Even if students have visited Drake's campus already, it is still important for them to attend an orientation session. Students will register for fall classes, get acquainted with fellow classmates, upper-class students, faculty and staff and can gain an in-depth look at residence-hall life, student services and cocurricular and social opportunities.
Drake is expecting one of its largest first-year classes this fall, which could exceed 975 students, compared to 781 students who started in the fall of last year. Drake's largest entering class in recent decades was 911 students in 1988.
In addition to the orientation session on Thursday, four other sessions are scheduled throughout the summer: Friday and Saturday, June 15-16; Sunday and Monday, June 24-25; Friday and Saturday, June 29-30; and Sunday and Monday, July 1-2.
The only remaining open sessions are the June 29-30 and July 1-2 dates. To register for either session, students should complete and mail the registration form with payment as soon as possible. The form can be found at www.drake.edu/orientation.
For questions about the summer orientation sessions, contact the Dean of Students Office toll-free at 1-800-44-DRAKE, ext. 2835 or locally at 515-271-2835.