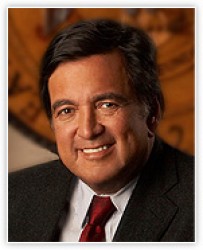 CONTACT: Lisa Lacher, Drake University, 515-271-3119, lisa.lacher@drake.edu;

Julie Rutz, IowaPolitics.com, 515-226-8774, rutz@iowapolitics.com
New Mexico Gov. Bill Richardson, a Democratic presidential candidate, will be the featured guest at a Friday, June 22, "Cookies and Conversation" forum hosted by Drake University and IowaPolitics.com.
The event, co-sponsored by The Rocky Mountain News-Des Moines Bureau, will begin promptly at 11:30 a.m. in room 101 of Aliber Hall on the Drake University campus at 29th Street and University Avenue (directly west of the Olmsted Center parking lot).
The event is free and open to the public, but reservations are required because space will be limited. For reservations, call 515-271-3747 or e-mail iowacaucuses@drake.edu. Doors will open at 11 a.m. Media availability will be at 12:15 p.m.
Richardson will take questions from moderator Chris Dorsey, the IowaPolitics.com bureau chief. Richardson also will field questions from the audience regarding his stance on issues facing the nation and the next president of the United States.
Richardson served seven terms in the U.S. Congress and was the U.S ambassador to the United Nations and U.S. secretary of energy before being elected governor twice by New Mexico voters.
"This forum is an opportunity for me to speak directly with Iowa caucus goers about issues they care about and for me to hear what's on their minds," Richardson said. "It fits with the traditional grassroots caucus-style campaign I am running here in Iowa."
The IowaPolitics.com-Drake University "Cookies and Conversation" event is designed to educate the public about Iowa's first-in-the-nation caucuses. The series will help focus attention on major issues and Iowa's role in the presidential selection process.
IowaPolitics.com is an independent, nonpartisan online news service and maintains a free Web site at http://www.iowapolitics.com/ and a paid subscriber information service.
Drake University is a private institution, located in Iowa's capital city, and is recognized as one of the top master's universities in the nation, with more than 5,350 students from 45 states and 61 countries.
For more information, contact Julie Rutz at IowaPolitics.com at 515-226-8774 or by e-mail at rutz@IowaPolitics.com. For information about Drake University, contact Lisa Lacher at 515-271-3119 or lisa.lacher@drake.edu. The Rocky Mountain News Bureau Chief M.E. Sprengelmeyer can be reached at 515-244-2396 or sprengelmeyerm@shns.com.