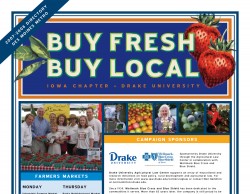 CONTACT: Matt Russell, 515-271-4956 or matthew.russell@drake.edu;

Lisa Lacher, 515-271-3119, lisa.lacher@drake.edu
Drake University's Buy Fresh Buy Local booth will be in full operation at this Saturday's Downtown Farmers' Market in Des Moines. Market patrons may stop by to pick up their free directory of farms and businesses selling local foods, sign a pledge to support local farmers and food businesses, and purchase T-shirts and hats sporting the Buy Fresh Buy Local logo.
"We are so excited to bring the Buy Fresh Buy Local campaign once again to the Greater Des Moines region," said law professor Neil Hamilton, director of Drake's Agricultural Law Center. "This is a great way for the University to serve the community and the state by promoting healthy eating and rural development. And we're helping people enjoy the delicious flavors and diversity of fresh, local Iowa foods."
Wellmark Blue Cross and Blue Shield is providing major sponsorship for the campaign to help consumers connect healthy eating with wellness.
"Wellmark Blue Cross and Blue Shield is proud to support Iowa agriculture through sponsorship of Buy Fresh Buy Local," said Chris Verlengia, Wellmark's community relations coordinator. "We think it's a great opportunity to grow the local economy, while showcasing an assortment of our state's finest fresh, nutritional foods."
The Downtown Farmers' Market is providing a booth for the BFBL campaign throughout the summer, enabling the program to connect with hundreds and possibly thousands of market patrons each week.
"The Downtown Farmers' Market is committed to supporting Iowa growers and teaming up with the BFBL campaign helps fulfill that commitment," said Kelly Foss, director of the downtown market. "For more than 30 years the Downtown Farmers' Market has been a major direct marketing source for hundreds of Iowa growers and family farms around the state that raise locally produced meat, cheese, eggs, produce and flowers. By signing the BFBL pledge, market patrons will help ensure that family farms around the state will continue to thrive for generations to come."
Tim Schlitzer, the BFBL national coordinator, will be in the booth with his Toyota Prius entirely wrapped in the BFBL logo and images. Schlitzer is traveling the country in the BFBL car to visit many of the 27 states with BFBL campaigns.
The campaign goal is to build a network of local farms, restaurants, food retailers, food processors and consumers to increase the production and sales of fresh, local foods in the eight-county region surrounding Des Moines including farmers from Polk, Boone, Dallas, Jasper, Madison, Marion, Story, Warren and surrounding counties.
Through August, the BFBL booth will be at the Downtown Farmers' Market every Saturday and occasionally at other area farmers' markets. The Downtown Farmers' Market is open from 7 a.m. to noon Saturdays in the Historic Court Avenue District. For more information, visit www.DesMoinesFarmersMarket.com.

For more information about the local Buy Fresh Buy Local program, contact Matt Russell at 515-271-4956 or matthew.russell@drake.edu.