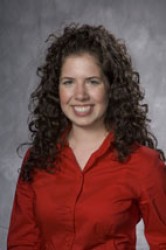 Lauren Smith
CONTACT: Lisa Lacher, 515-271-3119, lisa.lacher@drake.edu
Lauren Smith, who just completed her term as Drake University student body president for 2006-07, has been awarded a Fulbright Scholarship to fund a 13-month English teaching assistantship in South Korea.
Smith, a senior majoring in graphic design and a native of Kansas City, Mo., plans to leave July 5 for South Korea, where she will receive six weeks of intensive training, to learn about Korean values and language, before being assigned to a school. She will then teach English language courses to middle school or high school students and help them develop an understanding of American culture and society.
"I'm honored to receive a Fulbright Scholarship and am grateful to the Drake community for all the support I've received over the years," Smith said. "I'm confident my coursework and preparation at Drake will help me achieve success in whatever challenges and adventures that may come my way."
Drake has been ranked as one of the top producers of Fulbright Awards for students among the nation's master's universities in recent years. Smith is the seventh Drake student to receive a Fulbright teaching assistantship or research grant in the last four years, said Eleanor Zeff, Drake Fulbright program adviser and associate professor of politics and international relations.
According to Zeff, "The ability of Drake students to receive these competitive Fulbright Scholarships attests to the quality of Drake's educational programs and students and demonstrates the success of Drake's commitment to internationalize the curriculum."
Upon returning from South Korea, Smith plans to work for several years, then pursue a master's degree and open her own business.
South Korea will be another step in Smith's global education, which includes a mission trip to El Salvador, a summer volunteer and study-abroad program in Hong Kong and a seminar in Israel for student body presidents. She also has been active in Drake's Center for Global Citizenship and completed its Student Ambassador Program. Just a few days after participating in Drake's Undergraduate Commencement Ceremony on Saturday, May 12, Smith will travel to Uganda as part of a Drake travel seminar on Sustainable Development in Africa.
The Fulbright Program, established in 1946, aims to increase mutual understanding between the peoples of the United States and other countries through the exchange of persons, knowledge and skills. For more information about Fulbright Scholarships, visit www.fulbrightonline.org.