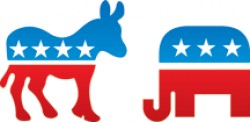 CONTACT: Janet Keefer, Drake associate professor of journalism, 515-271-3105, janet.keefer@drake.edu; Katie Knorovsky, 515-271-18374, katie.knorovsky@drake.edu
Applications are now being accepted for a free political reporting seminar to be presented June 4-6 by Drake University's School of Journalism and Mass Communication in partnership with the Poynter Institute.
The seminar, called "McCormick Tribune Specialized Reporting Institute: Covering the Presidential Nominating Process," is open free-of-charge to 16 journalists who are relatively new to political reporting through the sponsorship of the McCormick Tribune Foundation and with support from the Des Moines Register and Iowa Public Television.
The deadline to apply for registration is Thursday, May 10. More information is available at https://wwww.drake.edu/journalism/sjmcsite/Seminar07/DrakeInstitute.htm or by e-mailing reportingseminar@drake.edu.
"This is an exceptional and exciting opportunity for selected journalists to learn more about covering the presidential nominating process," said Janet Keefer, Drake associate professor of journalism and coordinator of the seminar. "We've got an all-star cast ready to deliver what promises to be an informative and relevant workshop."
The specialized reporting institute at Drake will kick off Monday, June 4, with a "community conversation" — a moderated town hall meeting — about how media organizations can help the public make better decisions during the presidential nominating process. The event will be free and open to the community.
The workshop will be held June 5-6 led by faculty from the Poynter Institute and Drake University as well as politicians and experts, including former Iowa Gov. Tom Vilsack; Tom Rosenstiel, director of the Project for Excellence in Journalism; Jennifer Sizemore of MSNBC.com; David Yepsen of the Des Moines Register; Dave Busiek, news director of KCCI-TV; former Bush strategist Matt Dowd of ViaNovo; pollster Ann Selzer of Selzer and Co.; Brant Houston of Investigative Reporters and Editors; and Mike Glover of the Associated Press.
Workshop leaders will discuss ways media organizations can better employ polling data to inform voters beyond "horse race" reporting.
Designed to equip journalists with the necessary tools to cover the campaign trail more responsibly, workshop sessions will cover the following topics:
• Mining public opinion polls

• Following the money trail while traveling the campaign trail

• "Best practices" in political coverage

• Getting the candidates' perspective on political coverage

• The ethics of balance vs. fairness in election coverage

• Telling the daily story in a compelling and essential way to the public

• Using the myriad tools that converge online to enhance storytelling
Drake University was awarded a $50,000 grant from the McCormick Tribune Foundation earlier this year, and the funding will be used to underwrite the seminar, travel (mileage reimbursement or economy airfare) and lodging expenses of 16 selected participants.