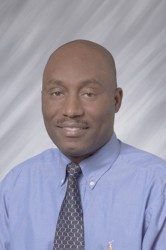 Jimmy Senteza
CONTACT: Professor Jimmy Senteza, 515-271-3716, jimmy.senteza@drake.edu;

Lisa Lacher, 515-271-3119, lisa.lacher@drake.edu
Ugandan-born Jimmy Senteza, associate professor of finance at Drake University, has spent two years organizing a travel seminar — Sustainable Development in Africa — for Drake students. It involves a 23-day journey to Uganda to examine the perspective of a country where the term "globalization" can mean both grinding poverty or opportunity.
He is teaming up with three other Drake faculty members to lead 21 students on the travel seminar — Drake's first in Africa. They leave Des Moines on Tuesday, May 15, and return on June 6.
Senteza organized the seminar with Deb Bishop, assistant professor of information systems; Thomas Root, associate professor of finance; and Glenn McKnight, associate professor of history, who studied in Uganda for a year while completing his doctoral dissertation on development policy in colonial Uganda. Senteza and McKnight drew on their connections in Uganda to arrange the seminar.
As a boy growing up in Uganda, Senteza experienced first-hand the tumultuous period depicted in the recent Oscar-winning movie, "The Last King of Scotland." Though he witnessed the pitfalls of Uganda under Idi Amin, he also has observed the gradual progress made by subsequent governments to improve living standards.
In partnership with colleagues at Makerere University Business School (MUBS) in Kampala, Drake faculty and students will explore a wide variety of subjects related to sustainable development, including the legacy of colonialism, HIV/AIDS in Africa, availability and constraints of micro-finance, tourism as a sustainable industry and tribalism and democratization.
The group also will visit the source of the Nile River, Kasubi tombs, the Queen Elizabeth National Park, urban markets, various non-government organizations, government offices and small businesses. In addition, participants will attend lectures by Ugandan experts and engage in directed readings, research and discussions and keep reflective journals. Speakers include political leaders, MUBS professors and accomplished business executives.
The one lesson that Senteza hopes students take away from his course is the realization that development and globalization have created extreme differences in living standards around the world. To drive that point home, students will spend an entire day with a rural Ugandan family to learn what it's like to work in the fields, hunt for firewood to cook meals and walk to a village for water that may or may not be safe to drink. Another trip to a health clinic will explore the HIV/AIDS crisis in Africa, with the director of Uganda's AIDS program in the health ministry.
"The students will learn to appreciate what they really have and what development really means," Senteza said. "I think it will be a life-changing experience."