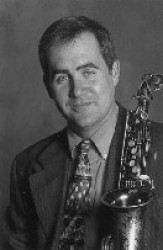 Will Campbell
CONTACT: Lisa Lacher, 515-271-3119, lisa.lacher@drake.edu
This spring, members of Drake Jazz Ensemble II will have a rare opportunity to rehearse and perform with renowned saxophonist Will Campbell.
Campbell has performed with the Harry Connick Jr. Orchestra, alongside Frank Sinatra Jr., and with numerous other prestigious ensembles. He will perform with the Drake University Jazz Ensemble II in a free concert at 8 p.m. Tuesday, May 1, in the Performing Arts Hall of the Harmon Fine Arts Center, 25th Street and Carpenter Avenue.
Campbell will be the chief soloist on two big band charts that he composed, as well as a number of other numbers that Drake's ensemble has prepared. He will also hold a pre-concert rehearsal with the 19-member ensemble.
"Will Campbell is a very fine jazz saxophonist, composer and arranger," said Jazz Ensemble II conductor James Romain. "He's also an educator, so he knows how to communicate with the students about music."
Campbell is the director of jazz studies and saxophone instructor at the

University of North Carolina in Charlotte. Besides Connick Jr. and Sinatra Jr., he has performed with artists such as Marvin Stamm, Randy Brecker, Bobby Shaw, Pete Christlieb, Doc Severinsen, Louie Bellson and also with ensembles such as The Glenn Miller Orchestra and The Tulsa Philharmonic Orchestra. From 1990 to 1994 he toured internationally as a member of the Harry Connick Jr. Orchestra.
In 1995 he received a National Endowment for the Arts Jazz Fellowship Grant, which allowed him to study privately with saxophonist Dick Oatts in New York City. He holds a doctor of musical arts in saxophone performance and literature degree from the University of Illinois at Urbana-Champaign, where he was a student of Debra Richtmeyer.
Campbell also will perform with The Des Moines Big Band from 6:30 to 9:30 p.m. Monday, April 30, at Adventureland Inn, 305 34th Ave. N.W., Altoona. Both performances are made possible by the support of Drake University, Conn-Selmer Inc., Rieman Music, The Des Moines Big Band and Adventureland Inn.