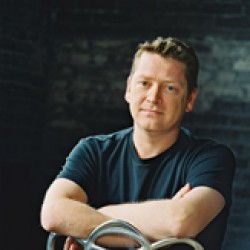 Dan Chaon
CONTACT: Katie Knorovsky, 515-271-1834, katie.knorovsky@drake.edu
Dan Chaon, an acclaimed novelist and short story writer, will share his work and discuss his writing at 7:30 p.m. Thursday, May 3, in the Reading Room of Drake University's Cowles Library, 28th Street and University Avenue. Chaon's presentation, which is free and open to public, will conclude the Spring Drake Writers and Critics Series.
Chaon's most recent book, the novel "You Remind Me of Me" (Ballantine, 2004), was listed as one of the best books of 2004 by The Washington Post, The Chicago Tribune and The San Francisco Chronicle, among other publications. His book of short stories, "Among the Missing" (Ballantine, 2001), was a finalist for the 2001 National Book Award as well as New York Times Notable Book of the Year.
Chaon's stories have been included in "Best American Short Stories" in 1996 and 2003, the "O'Henry Prize Stories" in 2001, "The Pushcart Prize" in 2000-03, "The Best Fantasy and Horror" in 2004 and "The Best American Non-Required Reading" in 2005. In addition, he is the 2006 recipient of the Academy Award in Literature from the American Academy of Arts and Letters.
Chaon is associate professor of English and director of the Creative Writing Program at Oberlin College.
The Drake Writers and Critics Series is sponsored by the Drake English Department and made possible by a grant from the Drake Center for the Humanities. For more information, contact Dina Smith at 515-271-3127 or dina.smith@drake.edu.