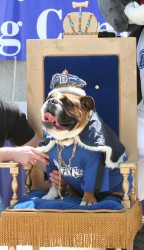 This year's most beautiful bulldog is Riggs, a boisterous 3-year-old bulldog owned by Cordell Miller of Prairie City, Iowa.
CONTACT: Katie Knorovsky, 515-271-1834, katie.knorovsky@drake.edu
Riggs, a boisterous 3-year-old bulldog owned by Cordell Miller of Prairie City, Iowa, snagged the crown at today's 28th annual Drake Relays Beautiful Bulldog Contest. He won the honor of serving as Drake University's mascot for the 98th running of the Drake Relays April 26-28.
The 68-pound pooch proudly strut his stuff on the catwalk — showing off his "alpha personality" — before jumping onto his throne for a large crowd of admirers gathered to watch the lunchtime beauty pageant in Nollen Plaza in downtown Des Moines.
Sporting a snazzy Drake blue shirt, Riggs beat 51 other bulldogs hailing from six different Midwest states in a field that included more than 20 first-time contestants. Contestants ranged in age from 3-months-old to 11-years-old and flaunted grass skirts, snorkeling gear and frilly dresses as well as Drake apparel.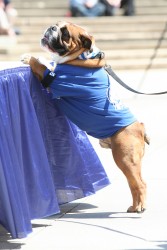 "When he's not attacking the vacuum or hair dryer, watching TV while on the furniture or begging for the smallest crumb, you can find him snoring heavily and dreaming about being at the Drake Relays," Miller said about Riggs in the profile he submitted for entry in the contest. This was Riggs' second appearance at the Beautiful Bulldog Contest.
Riggs will make appearances throughout the week at various Drake Relays events and will be introduced Saturday, April 28, to preside over the Relays. He will also be featured in next year's Drake Relays Parade. "It's a huge surprise," Miller said. "We're really excited."
Riggs was selected by a panel of judges that included community members and Drake representatives. The judges may have been influenced by the fact that Riggs was the only contestant to stop and put his front paws up on the judges' table after making his trip down the runway.
When asked whether he had trained Riggs to do that, Miller said, "No. He just did that on his own."
View a photo gallery of other bulldog contestants.