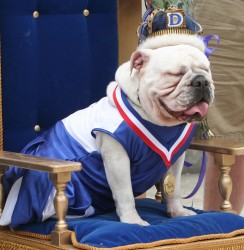 Last year's Beautiful Bulldog Contest winner, Hannah, will preside over this year's Drake Relays Parade.
CONTACT: Katie Knorovsky, 515-271-1834, katie.knorovsky@drake.edu
Fifty contestants sporting whiskers, wrinkles and wagging tails will compete in the 28th annual Beautiful Bulldog Contest to kick off Drake Relays Festival Week on Monday, April 23, at Nollen Plaza, Third and Locust streets in downtown Des Moines. The winning bulldog will serve as mascot for the 98th running of the Drake Relays April 26-28.
The contestants will be judged by a panel starting at 11 a.m. with the pageant scheduled for noon. This year's contestants come from six different Midwest states, with more than 20 first-time contestants. Among the veteran contestants, one diligent pup will make its eighth try for the crown.
The winning bulldog will be featured in next year's Drake Relays Parade. Last year's winner, Hannah, will preside over this year's parade, which starts at 3 p.m. Sunday, April 22. Paul Morrison, a 1939 Drake graduate and Drake Athletics historian, will serve as the grand marshal.
The parade will follow last year's route around the Drake campus, starting on 24th Street and University Avenue and heading west to 31st Street. From 31st Street, the route turns right and travels past Goodwin-Kirk and Stalnaker residence halls, then turns right on Forest Avenue and heads east to 25th Street, ending at 25th Street and Forest Avenue.
And just in time for the influx of alumni and visitors on campus for the Drake Relays, Cowles Library will launch a new digital collection Monday, April 23, called "What a Time We Had…Women Remember Drake."
The oral history project is part of the Drake Digital Heritage Collection and features interviews that reflect on a collective history that spans more than 65 years — from Jane Alexander, a 1933 Drake graduate, to Lisa Brinkmeyer, a 1998 Drake graduate and member of the women's basketball team.
Women involved in the project will gather to celebrate the project's completion at a tea from 2 to 3:30 p.m. Tuesday, April 24, at Cowles Library, 28th Street and University Avenue. In addition, memorabilia and vintage photos of women at Drake are on display in the James M. Collier Heritage Room and various display cases throughout Cowles Library.
The digital collection will be available starting Monday at www.lib.drake.edu/heritage.