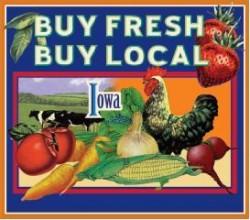 CONTACT: Matt Russell, 515-271-4956, matthew.russell@drake.edu;

Lisa Lacher, 515-271-3119, lisa.lacher@drake.edu
Officials with the Drake University Agricultural Law Center announced today that they are conducting the Des Moines Metro Buy Fresh Buy Local food marketing campaign for 2007. The campaign goal is to build a network of local farms, restaurants, food retailers, food processors and consumers to increase the production and sales of fresh, local foods in the eight-county region surrounding Des Moines.
Wellmark Blue Cross and Blue Shield is providing major sponsorship for the campaign to help consumers connect healthy eating with wellness. "We are excited to have such a well-known Iowa health care company play a significant role in this year's campaign," said Matt Russell, BFBL coordinator and state food policy project coordinator at the Agricultural Law Center. "We look forward to using this year's Buy Fresh Buy Local campaign to focus on the health benefits of fresh and local foods."
Drake is recruiting local farmers to join the campaign and be listed in the new Buy Fresh Buy Local directory. Farmers can join the campaign by sending an e-mail to BFBL@drake.edu or by calling 515-271-4956 for membership information. The Des Moines Metro Buy Fresh Buy Local campaign includes farmers from Polk, Boone, Dallas, Jasper, Madison, Marion, Story, Warren and surrounding counties.
The membership fee is $30 for each farm, but thanks to support from the new Gateway Market in Des Moines opening this month, farmers can apply for scholarships to defray this cost. Farmers must register by May 7 to have their farm listed in the directory. Drake recently mailed an invitation to participate to more than 200 farms, but membership is open to any farmer whose farm aligns with the goals of the campaign. Local food businesses are also being recruited and can register by sending an e-mail to BFBL@drake.edu or calling 515-271-4956.
The staff at the Drake Agricultural Law Center, which includes marketing and law student interns, will print and distribute 60,000 directories as well as regularly participate at the Downtown Des Moines Farmers Market on Saturday mornings and other local farmers markets during June, July and August. In addition, Drake will conduct consumer outreach and provide a range of Buy Fresh Buy Local promotional materials to help farms, restaurants, retailers and food processors identify with the campaign.
For more information, contact Russell at 515-271-4956 or matthew.russell@drake.edu.