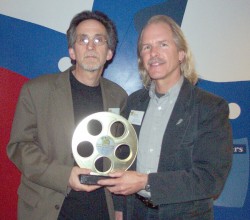 Jody Swilky (left) and Kent Newman display the trophy they won for their film at the Cedar Rapids Independent Film Festival.
CONTACT: Lisa Lacher, 515-271-3119, lisa.lacher@drake.edu
A documentary written and co-produced by Jody Swilky, Drake University professor of English, garnered top honors at last weekend's Cedar Rapids Independent Film Festival.
"A Little Salsa on the Prairie: The Changing Character of Perry, Iowa," received a Gold Eddy Award in the Professional Documentary category. The film, which was directed and co-produced by Kent Newman, independent filmmaker and owner of Full Spectrum Productions, was selected as one of 42 films to be included in the festival. The Eddy Awards were presented in 12 categories at a ceremony held Saturday, April 14, in Cedar Rapids.
Swilky and Newman's film chronicles the rapid ethnic diversification of the community of Perry, Iowa, beginning in the early 1990s when the complexion of a once predominantly white community shifted dramatically. An influx of Latino workers and their families came from Texas, California, Mexico and Central America to work at the local meat packing plant. Perry's Latino population increased from 47 in 1990 to 1,873 in 2000, accounting for 24.5 percent of the total population. The film also document a bilingual dialog process concerned with the state of the city, especially issues pertinent to immigration, employment and social relations between different ethnic groups.
"It was certainly rewarding to hear that the judges of CRIFF deemed our film worthy of the Gold Eddy," Swilky said. "This recent recognition from filmmakers is a genuine sign of support for our story of how Perry responded to the challenges of becoming a more diverse community."
The first screenings of the documentary last October drew hundreds of viewers in Perry and Des Moines. The revised and expanded version premiered in February 2007 to an audience of more than 200 people at Drake. In March, two screenings were held for employees at Principal Financial Group. Each session was followed by discussion concerned with immigration, diversity in the workplace and the effects of changing demographics on communities throughout Iowa.
Swilky and Newman have since embarked on a schedule of nine screenings at institutions and conferences, including the University of Iowa Labor Center's Conference: Latinos in Action in Iowa City, Indian Hills Community College's Third Annual Diversity Conference in Ottumwa and Building Bridges/Haciendo Puentes: Latino Students and the ISU Transition in Marshalltown. To arrange a special screening of the documentary, contact Newman or Swilky at jody.swilky@drake.edu.
DVD copies of "A Little Salsa on the Prairie" are available for $25 (direct sales) and $30 (including shipping in the continental United States). To order, contact Newman at fullspectrum@mchsi.com or 515-883-1230.
Support for the project came from Humanities Iowa, the Iowa Arts Council, The Bock Foundation, Drake's Center for the Humanities, individuals and businesses.