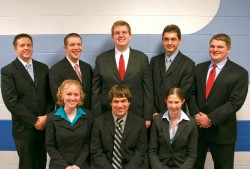 Front row from left: Ellen Cooper, Tyler Buller and Elizabeth Vaubel. Back row from left: Justin Carrothers, Mike Nelson, Jeremy DeFoe, John Lande and Van Everett.
CONTACT: Tyler Buller, 515-975-0191, tyler.buller@gmail.com
Drake University's top student-coached mock trial team tied for 14th place within their division at the National Championship Tournament at Stetson Law School in St. Petersburg, Fla., last weekend.
"It goes without saying that we've been proud of our accomplishments yearlong, but our performance this weekend against a field of teams that are nearly all professionally coached speaks volumes about the strength of the students in our program, and the dedication we've all put in over the last eight months, " said Elizabeth Vaubel, a senior politics and history major from Okoboji, Iowa.
The Drake undergraduate mock trial team has been student-coached for the past five years, and its leadership has been composed of seasoned upperclassman officers instead of an attorney coach, Vaubel said. She also said that the Drake program is one of the only nationally competitive organizations that is entirely student-coached.
A total of 64 teams competed at the gold flight tournament at Stetson, each having earned bids to gold from regional tournaments or the silver qualifying tournament. Each region is allotted a certain number of gold bids, and the bids not assigned to regions are allotted to winners of a silver qualifying tournament held in March.
Drake received its direct gold bid from its region and additionally fielded a team at the silver-qualifying tournament.
The competition at Stetson consisted of essentially the top ten percent of undergraduate trial advocacy teams in the United States. Across the nation, approximately 453 different colleges and universities compete in college mock trial.
Justin Carrothers, a senior law, politics and society and history major from Cambridge, Iowa, said that one challenge the team faced in Florida was a difference in styles between what is considered proper courtroom decorum in Iowa compared to the East Coast and Southern states.
"Since nationals are usually held in Des Moines, we could expect the kind of judges we would have and if our style would work well," Carrothers said. "This year, though, it was a whole new ballgame. We found out, for example, that apparently a lot of judges in Florida really don't like argumentative opening statements."
The gold tournament was the final performance for senior members of the team, some of them with more than a decade of mock trial experience behind them.
"We'll be losing a number of outstanding senior members of the team to graduation this spring," said John Lande, a junior politics and environmental policy major from Huxley, Iowa, "but the program will continue its top-notch performance next year, thanks to the talent and hard work put in by our underclassmen members."
Members of Team 488 that competed at the National Championship tournament included Vaubel; Carrothers; Lande; Tyler Buller, a freshman politics and journalism major from Urbandale; Ellen Cooper, a senior accounting and international business major from Dubuque, Iowa; Jeremy DeFoe, a senior Biology major from Farmington, Minn.; Van Everett, a freshman law, politics and society major from West Des Moines, and Mike Nelson, a sophomore English major from Gowrie, Iowa.