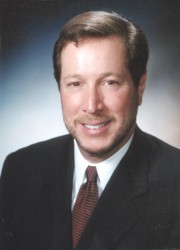 President David Maxwell
CONTACT: Lisa Lacher, 515-271-3119, lisa.lacher@drake.edu
Drake University President David Maxwell has been appointed to the inaugural Educational Leadership Advisory Group for Noel-Levitz, one of the nation's leading higher education consulting firms.
According to Noel-Levitz, Maxwell was selected as a charter member of the eight-member group based on his professional achievements and recognition, high level of respect from others in higher education, diversity of perspective and experience, and willingness to serve. He will participate in a number of teleconference and in-person meetings to share insights and perspectives on identified issues, trends and concerns in higher education. His term will begin this summer.
"The leadership at Noel-Levitz discussed who would provide us with the best perspective on higher education issues facing four-year private institutions, and Dr. Maxwell's name was the first that came up in that conversation," said Jim Mager, associate vice president of Noel-Levitz. "We're so pleased he has accepted our invitation."
The other seven members of the Educational Leadership Advisory Group are Carol Aslanian, CEO of the Aslanian Group; John Gardner, executive director of the Policy Center on the First Year of College; Tally Hart, senior advisor for economic access at Ohio State University; Charles Schroeder, vice president of North Georgia College and State University; Candace Vancko, president of State University of New York at Delhi; Dennis Pruitt, vice president of the University of South Carolina; and Brenda Williams, professor of English and education at the University of New Haven.
"I am delighted to join this diverse group of higher education professionals to engage in an ongoing conversation about the challenges that confront us," Maxwell said. "My participation in the group will also enable Drake University to have access to a vitally important stream of information and perspectives that will be of use to us as we shape the University's future."
Noel-Levitz is a nationally recognized consulting firm specializing in higher education student recruitment, financial aid, student retention, market research and Web and communications development. Since 1973, Noel-Levitz has partnered with more than 1,800 colleges and universities throughout North America. Noel-Levitz has offices in Denver, Iowa City, Iowa, and Braintree, Mass., and is a wholly owned subsidiary of SLM Corporation — commonly known as Sallie Mae, the nation's leading provider of education funding.