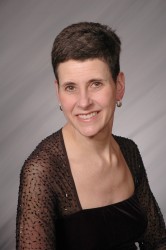 Aimee Beckmann-Collier
CONTACT: Lisa Lacher, 515-271-3119, lisa.lacher@drake.edu
More than 300 Drake University musicians will join forces to perform Ein Deutsches Requiem (A German Requiem) by Johannes Brahms at 3 p.m. Sunday, April 15, at the Civic Center of Greater Moines, 221 Walnut St.
The performance will feature all four Drake choral ensembles (Drake Choir, Chamber Choir, Chorale and Drake University/Community Chorus) and an orchestra made up of Drake faculty and other professional players as well as Drake students. Also performing will be soloists Leanne Freeman-Miller, soprano and Drake associate professor of voice, and Stephen Swanson, baritone and professor of voice at the University of Iowa. The conductor is Aimee Beckmann-Collier, Drake professor of conducting.
"Ein Deutsches Requiem is one of the most fabulous pieces in all of Western music," Beckmann-Collier said. "Unlike any other Requiem written in the 1,000 years preceding Brahms' work, this piece does not use the text of the Latin Requiem Mass. Brahms, who was not a churchgoer (and whom many characterize as an agnostic), but who was very familiar with the Lutheran Bible, carefully chose texts from both the Old and New Testaments to create a work that was clearly written for the living, not the dead. This is a work that speaks to all of us because it addresses the universal human experience of loss, grief, comfort and, ultimately, the contemplation of the meaning of life."



The concert is made possible by the generosity of an anonymous donor and is meant as an ongoing gift both to the musicians of Drake and to the Greater Des Moines community, Beckmann-Collier said. "Each year we are able, courtesy of this gift, to present one of the masterpieces of choral/orchestral music," she added. "Opportunities to hear this kind of music are minimal, so this is truly a marvelous gift to audiences as well as performers."
Tickets are for adults and for students of any age. They may be purchased at the Drake Fine Arts Box Office (515-271-3841), the Civic Center Box Office and all Ticketmaster outlets. Tickets also can be purchased at the door or charged by phone at Ticketmaster at 515-243-1888.