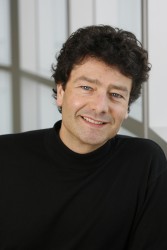 Antoni Cimolino
CONTACT: Katie Knorovsky, 515-271-1834, katie.knorovsky@drake.edu;

Deena Conley, 515-271-2819, deena.conley@drake.edu
Antoni Cimolino, general director of the world-renowned Stratford Ontario Shakespeare Festival, will speak at a public luncheon at noon Wednesday, April 4, at Drake University's Levitt Hall in Old Main, 2507 University Ave.
Cimolino will draw on his success with the Stratford Shakespeare Festival to talk about integrating the arts into the community, with an emphasis on creating cultural diversity in the arts. He will discuss ways to effectively conduct community outreach and engage the public in fine arts and cultural programs, with a special focus on broadening the cultural diversity of offerings and participants.
The Stratford Shakespeare Festival is world-renowned for its creativity as well as its talented directors and artists. Cimolino has particularly embraced the challenge of reflecting the diversity of his country, broadening the festival's work to include a wide array of works from Canada's cultural community. He recently staged "Harlem Duet," the first black work to be produced in the festival's 54-year history and the first to be directed by a black woman.
Cimolino graduated from the University of Windsor in 1984 with a bachelor of fine arts in acting and received an honorary doctorate of humanities in May 2004. He began his career as an actor at Stratford in 1988, served as the festival's artistic director since 1998 and was named general director in 2006.
"This is a great opportunity for the community as well as Drake students to get to listen and work with Mr. Cimolino. He has really increased attendance at the Stratford Festival, which is really one of the most respected and the largest theater festivals in North America," said Deena Conley, Drake assistant professor of theatre arts. "To have him here at Drake is quite a feat."
Following the luncheon at approximately 1 p.m., Cimolino will field a question-and-answer session, which is free and open to the public. Cost of the luncheon is $12.50 and reservations are required. To make a reservation, contact Marilea Chase at 515-271-3939 or marilea.chase@drake.edu.
Support for Cimolino's visit comes from Friends of Drake Arts as part of the ongoing Visiting Artist Series.