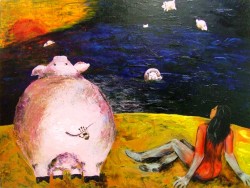 "A Year of Pig," by B.A. student Tianshu Ge
CONTACT: Heather King, 515-271-1994, heather.king@drake.edu
Graduating art students are showcasing their finest masterpieces in a series of Bachelor of Fine Arts Exhibitions in the Anderson Gallery in the Harmon Fine Arts Center, 25th Street and Carpenter Avenue. All of the exhibitions are free and open to the public.
The second installment of BFA exhibits, "Quadrants," opens Friday, April 20, with a reception to be held from noon to 3 p.m. Sunday, April 22, in the Anderson Gallery. The show will feature works of graphic design, painting and drawing by Michael DeBord, Erin Headley, Adrianne Konrad and Sarah Whited. The exhibit closes May 5.
Coinciding with "Quadrants" will be a show by seniors graduating with bachelor's of arts degrees, called "ID," to be held in the Weeks Gallery in the Harmon Fine Arts Center. The show will feature works by Tianshu Ge, Rebecca Gehm and Kathryn "Skates" Heck.
"REgeneration," featuring works by Kristin Adamson, Jennifer Engle, Kevin Fitzgerald, Christine Hendron and Minae Kim, closed April 13.
Gallery hours are noon to 4 p.m. Tuesday through Sunday. For more information, call 515-271-1994 or visit www.drake.edu/andersongallery.
The Anderson Gallery, a nonprofit exhibition space at Drake University, was founded in 1996 to exhibit and support innovation in art and design. The gallery aims to enrich the cultural life of the University and area communities through diverse and challenging exhibitions, educational programs and publications.