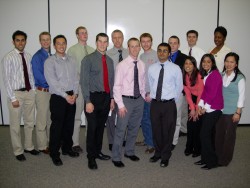 Nine individuals or teams from across campus participated in the premiere Drake's Next Top Entrepreneur Competition.
As part of this year's Entrepreneurship Week USA, Drake's DELTA Rx Institute hosted the premiere Drake's Next Top Entrepreneur Competition, an interdisciplinary competition aimed to challenge students to show creativity and innovation in solving health care related-problems.
The competition was split into three rounds, held on campus Feb. 26, 28 and March 7, with top performers advancing to the next round. The first round consisted of a three-minute presentation of a health care idea, the second round incorporated a three-minute presentation of an impromptu solution to a health care problem, and the third round was comprised of a 15-minute presentation of a business plan for a new health care endeavor. Each round included three judges representing pharmacy, business and a health care arena.
The competition involved nine individuals or teams representing the pharmacy, arts and sciences, journalism and business programs: Saloni Kapur, P3, and Heta Patel, P2; Kirk Heil, P3; Samit Bhatt, P2, and Michael Du, P4; Tim Sullivan, P1, and Andy Drish, a senior marketing major; Matt Ochs, P2, and Scott Henning, P2; Satya Modi, P1, and Greg Miller, a junior advertising major; Charlie Hartig, P2, and Ben Kacner, P2; Mone Kavan, P3, and Trenice Pinkerton, P3; and Alex Kieger, a junior biochemistry-molecular biology major.
"This event provided an opportunity for students to showcase their creativity, innovation, problem-solving and presentation skills as they shared their ideas to solve health care-related problems," said Renae Chesnut, associate dean for academic and student affairs and a member of the DELTA Rx Institute team. "This competition may have spurred the development of future products and/or services that can provide benefits to patients, health care providers and society at large."
The top three winners won cash prizes of $750, $250 and $100, respectively. Alex Kieger earned first place honors with his idea of GenetiClinic — "Health and Medical Solutions for the 21st Century." The mission of his business idea was to establish an on-site clinic for genetic cancer testing, screening and early prevention plans, as well as assistance to physicians for making educated treatment decisions regarding their cancer patients.
Team Tim Sullivan and Andy Drish placed second with their business idea of developing software for pharmacies to text message patients reminding them to administer their medication, thus improving medication adherence rates.
Kirk Heil was awarded third place with his idea of establishing Rxercise Inc., a health club that would provide monthly access to a pharmacist for the development of an ideal individualized health care plan. This venture would focus on health by integrating medication management with diet, exercise and social enhancement.
Other ideas presented included non-prescription product kiosks, immunization services, incentive and reward programs to encourage exercise and nutrition programs for elementary students and employees, among others.
The competition was supported by funding from the National Collegiate Innovators and Inventors Association.