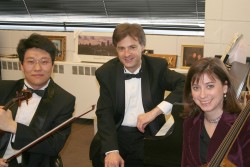 The Drake Fine Arts Trio is, left to right, violinist Lin He, pianist Nicholas Roth and cellist Ashley Sandor Sidon.
CONTACT: Lin He, 515-271-3736, lin.he@drake.edu;

Lisa Lacher, 515-271-3119, lisa.lacher@drake.edu
Three faculty from Drake University's music department are bringing professional chamber music to the Des Moines area with the revival of a generations-old Drake tradition: the Fine Arts Trio.
Pianist Nicholas Roth, violinist Lin He and cellist Ashley Sandor Sidon will hold their free debut performance at 8 p.m. Thursday, April 5, on the Jordan Stage in Drake's Sheslow Auditorium, 2507 University Ave. The program includes Dvorak's "Dumky" Trio in E Minor, Op. 90 and Schubert's Trio, Op. 99.
Drake has not had a Fine Arts Trio for three years, but previously had one for many generations. Sidon, assistant professor of cello, and He, assistant professor of violin and viola, are both in their first years at Drake. Roth, assistant professor of piano, has been a faculty member for four years.
Roth says the Fine Arts Trio hopes to perform in venues across the country, with particular emphasis on playing outreach concerts for students in schools nationwide. The trio will begin its educational outreach Wednesday, April 4, when the musicians play movements from their debut concert for local high school students in Sheslow Auditorium.
"We hope to raise awareness of chamber music and the visibility of Drake's music program," Roth said. "With the recent addition of my colleagues here, this department is really becoming something impressive. We have a lot to be proud of."
Roth, who has received numerous piano performance awards, has appeared as soloist with the St. Louis Symphony and the Indianapolis Symphony, among many others. He also has been featured in recital series and festivals throughout the United States, Germany and Spain, including the prestigious Dame Myra Hess Memorial Concerts Series of Chicago, the Irving S. Gilmore International Keyboard Festival, the Kalamazoo Bach Festival and Sunday Afternoons Live from the Elvehjem in Madison, Wis.
Professor He, who was born in Shanghai, China, is a doctoral candidate at the Eastman School of Music, where he received the 2003 John Celentano Award for Excellence in Chamber Music. As a soloist and chamber musician, he has performed concertos with the Houghton Philharmonia, the Jiang Su Symphony, the Tuscarawas Philharmonic and the Wooster Symphony. As an orchestral player, he has played first violin in the Shanghai Symphony, Rochester Philharmonic Orchestra, Boston Symphony, New World Symphony, Akron Symphony, Syracuse Symphony, Chicago Jazz Orchestra and Aspen Chamber Symphony. He currently plays first violin with the Des Moines Symphony.
Sidon previously taught chamber music at the Shanghai Conservatory of Music in Shanghai and also at Earlham College in Richmond, Ind. While teaching in Shanghai, she toured Southeast Asia to present recitals and master classes at provincial cultural centers, music schools and other concert venues. She also is cellist and manager of the Emery Trio and a former associate member of the Chicago Civic Orchestra. She holds a doctorate of musical arts in violoncello from the University of Cincinnati College-Conservatory of Music, where her principal teacher was internationally acclaimed cellist Yehuda Hanani.