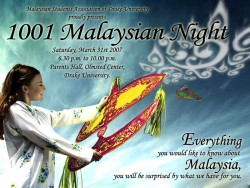 CONTACT: Katie Knorovsky, 515-271-1834, katie.knorovsky@drake.edu
The Drake University Malaysian Students Association will hold its first-ever "1001 Malaysian Night" from 6:30 to 10 p.m. Saturday, March 31, in Parents Hall, Olmsted Center, 29th Street and University Avenue.
The event, which is open to the public, will feature Malaysian food delicacies and a fashion show, Malay martial arts presentations and performances from the three primary ethnic groups of Malaysia — Malay, Chinese and Indian. During the opening ceremony, a performance team of students will play kompang, a traditional Malay hand drum. Its rhythmic music is popularly played at social occasions in Malaysia.
Based on the "The Book of One Thousand and One Nights," the event is designed to introduce the campus and Des Moines communities to the multi-ethnic and cultural diversity of Malaysia. Drake has 69 students from Malaysia, including 65 who are majoring in actuarial science.
Food will be catered by Sodexho Dining Services and will include curry chicken, nasi lemak (a rice dish soaked in coconut cream and steamed, considered the unofficial national dish of Malaysia), vegetarian fried meehoon, smoked pork meat, prawn biscuits, Indian dal and rojak (a fruit and vegetable salad).
Tickets cost $10 for food, drinks and admission, and can be reserved on Drake's campus in the Breezeway of Olmsted Center or by calling 515-271-3327. For more information, send an e-mail to yh0001@drake.edu.