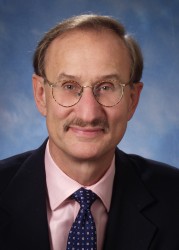 Stephen D. Wrage
CONTACT: Katie Knorovsky, 515-271-1833, katie.knorovsky@drake.edu
Stephen D. Wrage, professor of political science at the U.S. Naval Academy, will give a free public lecture on "Military Ethics in a Time of War" at 7 p.m. Thursday, March 29, at Drake University. The lecture, which is sponsored by Drake's Center for Global Citizenship, will take place in the Performing Arts Hall of the Harmon Fine Arts Center, 25th Street and Carpenter Avenue.
Wrage will focus on ethical challenges facing the U.S. military in a globalizing world, including changes in technology, in the global role of the United States and in perceptions of this nation abroad. He also will address issues such as torture, use of mercenaries and the duties of the military in rebuilding nations torn by war, especially wars the United States has initiated.
Wrage is the author of "Immaculate Warfare," a study of the ethical, practical and command issues raised by precision-guided munitions. He also has published scholarly articles and books on a variety of topics in ethics and American foreign policy and is the author of a number of widely used case studies of actual ethical quandaries experienced by officers in the American military.
He earned his B.A. in classics at Amherst College and then spent two years in Athens, where he taught in a Greek school and served as assistant to the president. Returning to the United States, he taught at St. Albans School in Washington, worked at the Brookings Institution and attended the Johns Hopkins School of Advanced International Studies. He served as assistant dean of the School of Foreign Service at Georgetown University and wrote his dissertation — a study of human rights in American foreign policy — at Johns Hopkins. In 1995 he spent a Fulbright year in Singapore and has written about that severely controlled society for major newspapers and Atlantic Monthly magazine.
For more information about the lecture or the Center for Global Citizenship, call 515-271-2117.