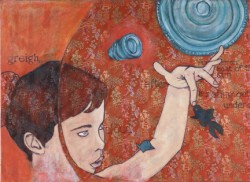 "Haiku" painting by Kathleen Stueve, a junior from Kansas City, Mo.
CONTACT: Heather King, 515-271-1994, heather.king@drake.edu;

Lisa Lacher, 515-271-3119, lisa.lacher@drake.edu
Drake University's 36th Annual Juried Student Art Exhibition offers the opportunity to see the outstanding artwork produced by students in Drake's Department of Art and Design.
The exhibition's opening reception was postponed due to the weekend's winter storm and has been rescheduled to take place from 1 to 4 p.m. Sunday, March 4, in the Anderson Gallery. The awards ceremony will begin at 2 p.m. The reception and exhibition, which continues through March 16, are free and open to the public.
Thirty-two student artists had their work selected for the exhibition by Peter Feldstein, an artist and retired professor of art at the University of Iowa, where he taught photography and digital media. He selected 50 of 163 works submitted by 63 students in the areas of drawing, graphic design, installation, painting, printmaking, sculpture and video.
The exhibition features large-scale landscape paintings as well as small, detailed works, a variety of beautifully rendered drawings, innovative design work and thought-provoking videos. Also included are humorous installations and three-dimensional objects as well as a selection of prints highlighting various techniques and styles.
Publications for the exhibition as well as the opening reception and an awards dinner for students are sponsored by Friends of Drake Arts. The student awards are made possible by the Thad Archie Memorial Fund.
The Anderson Gallery is open from noon to 4 p.m. Tuesday through Sunday. For more information, call 515-271-1994 or visit www.drake.edu/andersongallery.