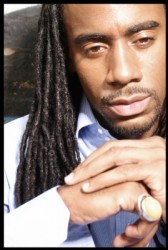 Jeff Johnson
CONTACT: Lisa Lacher, 515-271-3119, lisa.lacher@drake.edu; Shawanna Wilson, Coalition of Black Students, 515-271-3626, scw006@drake.edu
Jeff Johnson, host of BET Channel's "The Jeff Johnson Chronicles," will present "Construction Before Destruction with Cousin Jeff" at 4 p.m. Sunday, Feb. 11, at Drake University in Parents Hall North, Olmsted Center, 29th Street and University Avenue. The event was organized by Drake's Coalition of Black Students in recognition of Black History Month.
In his programming, Johnson creates intergenerational dialogue between civil rights leaders and the hip-hop generation. His lifestyle consulting firm, Truth is Power, specializes in leadership and curriculum development, media strategy and social branding about issues related to race, politics, popular culture and socio-economics.
"The Jeff Johnson Chronicles" addresses issues relevant to young people in urban America, providing a newer venue to engage youth in current affairs and issues in a way not seen since BET's highly successful and groundbreaking forum "Teen Summit." Johnson was the only American reporter to receive an exclusive interview with Africa's first female head of state, Ellen Johnson-Sirleaf in Liberia.
"This is a great opportunity to educate the campus on all of the great accomplishments of African-Americans throughout history," said Deidre Howard, student organizer and member of the Coalition of Black Students.
Black History Month will also include several forums featuring Drake students, alumni and Des Moines community members. "Am I Black Enough?," a panel discussion that will address how to define blackness, will be at 7 p.m. Monday, Feb. 19, on Pomerantz Stage, Olmsted Center. "I Am Not My Hair" will be held Wednesday, Feb. 21, at 7 p.m. in Bulldog Theater, Olmsted Center. A lecture titled "Does Racism Still Exist?" will be presented at 7 p.m. Tuesday, Feb. 27, on Pomerantz Stage, Olmsted Center.
Members of the Coalition of Black Students will prepare home-cooked soul food to be offered free of charge for the public at 4 p.m. Sunday, Feb. 25, at the Black Cultural Center, 1149 28th St.