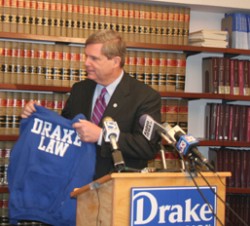 Tom Vilsack accepts a Drake Law School sweatshirt and mug from law students at a press conference announcing his appointment as visiting distinguished professor of law.
CONTACT: Lisa Lacher, 515-271-3119, lisa.lacher@drake.edu; Matt Paul, Gov. Vilsack, 515-229-0125
Drake University Law School announced Monday the appointment of former Iowa Gov. and current Democratic presidential candidate Tom Vilsack as visiting distinguished professor of law for the 2007 calendar year.
"Governor Vilsack has been a thoughtful and knowledgeable voice on issues of importance at the local, state, regional and national levels," said Drake University President David Maxwell. "We are very grateful for his willingness to share his knowledge, expertise and experience as a member of the DrakeUniversity community, and we are excited to have him with us."
Along with Neil Hamilton, Drake's Dwight D. Opperman distinguished professor of law, Vilsack will teach a May interim course focusing on legal issues relating to rural development and renewable energy. The course will consider policies being proposed for the 2007 Farm Bill as well as current state and USDA rural development programs.
Vilsack will give the keynote address at Drake Law School's Supreme Court Celebration on Saturday, March 10. He will also convene a major symposium on risk and responsibility in the 21st century this spring and present a public lecture next fall.
"Drake Law School recognizes in Gov. Vilsack a distinguished and outstanding lawyer, leader and public servant. With his demonstrated record of leadership and broad background and experience in private practice and public service, he will enrich the learning experience of Drake for students and all of us. We are delighted to have him join us," Law School Dean David Walker said.
Vilsack will be in residence at the Law School for several days throughout the year to engage in the life of the Drake community through informal meetings with faculty and students. "I'm very proud to be part of Drake University and the Law School," Vilsack said. "It's a great university, and it's a great law school. I look forward to teaching, to meeting with faculty and students there, and simply being part of life at Drake."
Prior to being elected the 40th governor of Iowa in 1998, Vilsack practiced law with his father-in-law in Mt. Pleasant, served as an Iowa State Senator from 1992-98 and was the mayor of Mt. Pleasant from 1987-92. Vilsack received a bachelor's degree from Hamilton College in Clinton, N.Y., in 1972 and a law degree from Albany Law School in 1975.
Click here to listen to the press conference held at Drake University Law School.