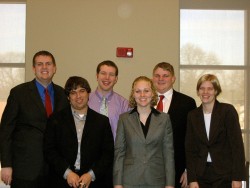 Team 489 members are (from left) Jeremy DeFoe of Farmington, Minn.; Tyler Buller of Urbandale, Iowa; Mike Nelson of Gowrie, Iowa; Ellen Cooper of Dubuque, Iowa; Van Everett of West Des Moines, Iowa; and Beth Delvaux of Milwaukee, Wis.
CONTACT: Tyler Buller, 515-975-0191, tyler.buller@gmail.com;

Jeremy DeFoe, Co-President of Drake Mock Trial, 515-770-1790, jdd006@drake.edu
Drake University's undergraduate mock trial team 489 took second place in this past weekend's invitational tournament — the season's last competition — held at the University of Missouri-Kansas City.
The team won with a 6-1-1 record, losing ballots only to a team from Washington University in St. Louis, Mo., in a field of approximately 36 teams, including those from the University of Kansas and University of Colorado.
Also at the tournament, Drake's teams received two individual awards. Tyler Buller, a sophomore journalism and politics major from Urbandale, and John Lande, a junior politics and environmental policy major from Huxley, Iowa, received Outstanding Attorney awards.
The UMKC tournament was the last invitational that Drake Mock Trial will attend before the regional competition Feb. 16-17 in Topeka, Kans.
"Team 489 has been performing consistently well, with a win last weekend and placing second at UMKC. This is more motivation for us to continue improving our performance before regionals," said Jeremy DeFoe, a senior from Farmington, Minn., who is co-president of Drake Mock Trial and captain of team 489.
The collegiate mock trial season runs in two parts: the invitational portion of the season during the fall semester and the regular competition season during the spring semester. Those who advance past the regional competitions, which are held in January and February, may earn bids to attend one of two national tournaments.
The gold flight (premier) tournament is the National Championship Tournament, held this year in St. Peterburg, Fla. The silver flight tournaments are known as the National Tournaments. The two silver tournaments will be held in Minneapolis, Minn., and Chicago, Ill.
"The last two weekends we have performed at the level of our region's highest-caliber teams," said Ellen Cooper, a senior international business and accounting major from Dubuque, Iowa, and member of team 489. "I'm confident that if we continue to work hard we will earn a post-season bid."
Sarah Kucker, a junior psychology and philosophy major and captain of Drake's team 490, said that the performance of the program has been outstanding over the last weeks. "All of our teams are working hard to prepare for regionals, and the program's continued success is reflective of that," said Kucker, a senior from Eagan, Minn.
Collegiate mock trial is administered and facilitated by the American Mock Trial Association (AMTA). Approximately 453 colleges and universities in the United States compete yearly with AMTA. This year's case involves the alleged shooting of a 16-year-old African-American boy by a white police officer in the fictitious state of Midlands. The basis of the case problem students work with is a civil lawsuit to recover damages for the deprivation of rights suffered by the boy who was shot.