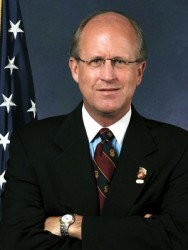 U.S. Comptroller David M. Walker
CONTACT: Lisa Lacher, 515-271-3119, lisa.lacher@drake.edu; Corey L. Davison, Concord Coalition, 703-894-6222
The Concord Coalition's Fiscal Wake-Up Tour, a nationwide series of town hall forums on the nation's unsustainable fiscal policy, will come to Drake University on Thursday, Feb. 1. The event, which is free and open to the public, will start at 5 p.m. in Bulldog Theater in Olmsted Center, 29th Street and University Avenue.
U.S. Comptroller David M. Walker will be the featured speaker as part of a town hall meeting and panel discussion that will include Robert Bixby, executive director of the Concord Coalition; Stuart Butler, vice president of domestic and economic policy studies at the Heritage Foundation; and Isabel Sawhill, vice president and director of economic studies at the Brookings Institution.
"One thing that Democrats and Republicans can agree on is that our nation's current fiscal policy is not sustainable over the long-term. Our children's economic future is at risk, which is something no one wants," said Bixby, executive director of the Concord Coalition. "Without greater understanding of the problem among the public, community leaders, business leaders and home state media, elected leaders are unlikely to break out of their comfortable partisan talking points and unlikely to find solutions. That is why we began the nationwide Fiscal Wake-Up Tour."
Drake's College of Business and Public Administration and the Department of Politics and International Relations are hosting the event. Although reservations are not required, they are requested. To RSVP or inquire about the event, contact Tristan Cohen at 703-894-6222 or by e-mail at tcohen@concordcoalition.org.
For more information about the Fiscal Wake-Up Tour at Drake, visit http://www.concordcoalition.org/events/fiscal-wake-up/press/07-desmoines-pp.html#event.