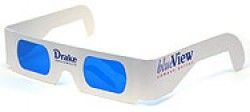 Drake's blueView Web portal launched Monday, Jan. 29. Through a single sign-on portal using your nine-digit Drake ID number and a new password, the new service provides secure access to most centrally managed computer applications, including MyDusis, e-mail, Blackboard, Cowles Library services, E-Print, the Room/Event Scheduler and Symplicity. To log in to CorporateTime, continue to use your usual desktop client and current password.
Effective Monday morning, the password for centrally managed applications was re-set to your birthdate, expressed in a six-digit mmddyy format. To change your password, use the Drake Password Gateway.
Members of the Drake community are invited to two open presentations about blueView to be held from 2 to 3:30 p.m. on Monday, Jan. 29, and Tuesday, Jan. 30, in Bulldog Theater, Olmsted Center. These sessions will describe the portal and its functions, how to log in and begin using the portal. There will also be plenty of time for questions. People are welcome to come late or leave early.
All faculty and staff should have received a QuikStart guide, and more information will be available from the Web as a download. In addition, the portal features online guides and boxes for submitting problems and suggestions. In-person training classes are available for users by request.
For more information about blueView, visit https://wwww.drake.edu/webcom, and for an in-depth introduction to the portal, visit https://wwww.drake.edu/webcom/cms-portal/description/Introduction_to_BlueView_1-22-07.pdf.