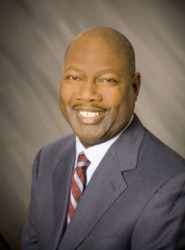 National Bar Association President Linnes Finney Jr.
CONTACT: Lisa Lacher, 515-271-3119, lisa.lacher@drake.edu
The Drake University Law School will celebrate the founding, history and accomplishments of the National Bar Association (NBA) and dedicate the transfer of NBA archives from the Des Moines Public Library to the Opperman Law Library Thursday, Feb. 1. A program will begin at 3 p.m. and the new National Bar Association Archives Room will be dedicated at 4:30 p.m., followed by a ribbon-cutting and reception from 5:15 to 6:15 p.m.
The dedication commemorates the pioneering civil rights work of Charles Howard, a 1920 graduate of Drake Law School, and 11 other lawyers who co-founded the NBA in 1925 in Des Moines. The NBA was established because the American Bar Association did not accept African-American lawyers as members at that time. Today, the NBA network encompasses more than 40,000 African-American judges, lawyers, educators and law students.
"The founding of the National Bar Association was an act of vision and promise, and the contributions and benefits of the NBA — to its members, to the communities in which its members have lived and practiced, to the legal profession generally and to our society — have been significant and enduring," said David Walker, dean of the Law School. "The program will symbolize and testify to the relationship we've had, not only with the NBA, but also with the NAACP-Des Moines Branch and the African-American community. This reflects our commitment."
Participating in the event will be Linnes Finney Jr., president of the NBA; Drake University President David Maxwell; Law School Dean Walker; Romonda Belcher-Ford, a 1995 Drake Law alumna; John Brittain, chief counsel of the Lawyers Committee for Civil Rights; Elaine Estes, a 1953 Drake alumna and former director of the Des Moines Public Library; Dr. Lawrence Howard, son of Charles Preston Howard; Judge Odell McGhee, a 1977 Drake Law alumnus; William Morris, grandson of NBA co-founder J.B. Morris; the Rev. Keith A. Ratliff Sr., a pastor at Maplestreet Missionary Baptist Church; and Robert Wright Sr., a 1954 Drake Law alumnus and active member in the NBA as well as the NAACP.