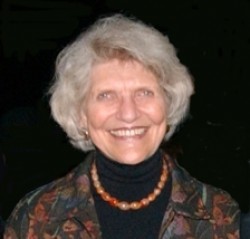 Harriet Mayor Fulbright
CONTACT: Lisa Lacher, 515-271-3119, lisa.lacher@drake.edu
Harriet Mayor Fulbright, who advocates conflict resolution and world peace through international collaborations and educational programs, will give a lecture at Drake University on Tuesday, Jan. 30. The lecture, titled "Citizen Diplomacy: An Essential Element of Foreign Policy," will start at 7 p.m. in Sheslow Auditorium in Old Main, 2507 University Avenue.
Fulbright is president of the J. William and Harriet Fulbright Center, a nonprofit group advancing the work of her late husband, Sen. J. William Fulbright, best known for spearheading the U.S. Fulbright Scholar Program. She also serves on the board of directors of the U.S. Center for Citizen Diplomacy and is former executive director of the President's Committee on the Arts and the Humanities.
Fulbright's lecture, which is free and open to the public, is sponsored by Drake's Center for Global Citizenship. The center serves as a forum for exploring the cultural, political and economic changes that accompany globalization. In addition, the center works to ensure that global perspectives and issues are an integral part of the intellectual and cultural experience of all members of the Drake community.
Fulbright also will be a special guest at the Midwest premier of a new documentary film about her late husband titled "Fulbright: the Man, the Mission, the Message." She will provide a personal introduction to the film, which will be shown at 7:30 p.m. Thursday, Feb. 1, at Sheslow Auditorium in Old Main. A reception will follow.
The film and reception, which are free and open to the public, are presented by the U.S. Center for Citizen Diplomacy, a nonprofit organization headquartered in Des Moines that recognizes and supports innovative citizen diplomacy programs and the power of peace-making individuals.
For more information about Fulbright's lecture at Drake, call 515-271-2117.