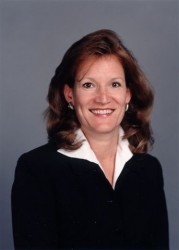 Cara Heiden
CONTACT: Lisa Lacher, 515-271-3119, lisa.lacher@drake.edu
Drake University's School of Management and Communication will host Cara Heiden of Wells Fargo Home Mortgage for its Executive in Residence series on Tuesday, Jan. 30.
Heiden, division president of national consumer and institutional lending, will speak at 7 p.m. in Bulldog Theater in Olmsted Center, 29th Street and University Avenue. Her speech, which is free and open to the public, will examine leadership and women in business.
Heiden was named as one of the top 25 women in banking by U.S. Banker in October 2006. She joined Wells Fargo Bank Iowa in 1981 and was named the bank's CFO in 1988. She was named CFO of Wells Fargo Home Mortgage in 1992 and led servicing and post closing from 1994 to 1997 when she became executive vice president of retail direct client services. She became head of national consumer lending in 1998 and division president in 2004. Her responsibilities include joint leadership of the overall business and strategic direction of the mortgage division.
After graduating with honors from Iowa State University in 1978 with a degree in industrial administration, Heiden spent three years with the accounting firm of Ernst and Young before starting at Wells Fargo.
Heiden has served as a committee member and as former president of the Wells Fargo Housing Foundation, which works with nonprofit housing organizations to help provide permanent solutions to affordable housing needs for low-income families in communities nationwide. She has also served on various professional and community boards, panels and committees such as the United Way of Central Iowa, the Iowa State University Foundation Board of Directors and Science Center of Iowa.
The School of Management and Communication at Drake encompasses the College of Business and Public Administration and the School of Journalism and Mass Communication.