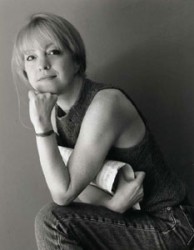 Maria Schneider
CONTACT: Lisa Lacher, 515-271-3119, lisa.lacher@drake.edu
The Grammy Award-winning Maria Schneider Jazz Orchestra will perform at 8 p.m. Wednesday, Jan. 31, in Drake University's Performing Arts Hall in the Harmon Fine Arts Center, 25th Street and Carpenter Avenue.
The highly acclaimed composer-arranger Maria Schneider blurs the line between big band jazz and classical music, and her 17-piece orchestra propels through powerful and complex compositions rich in creativity. Their most recent release, "Concert in the Garden," won a 2005 Grammy Award and was chosen as the Jazz Album of the Year by the Jazz Journalists Awards and the Downbeat Critics Poll. Schneider's third album, "Allégresse," was listed on the Top Ten Recordings of 2000 by both Time and Billboard magazines.
Schneider's career in jazz launched in 1985, when she moved from her native Windom, Minn., to New York City and began studying composition with Bob Brookmeyer as well as assisting the renowned Gil Evans on such projects as the Gil Evans/Sting tour of 1987. Since 1993, she has performed with the orchestra and as guest conductor of her music in venues across the globe, from Greenwich Village to Brazil, Macau, Italy, Portugal, France, Sweden, Denmark, Slovenia, Canada, Australia and Iceland.
Tickets for the Drake concert, which are $15 for the general public and $5 for students, senior citizens and those with a Drake ID, are available at the Drake Fine Arts Box Office, 515-271-3841. The Box Office is open noon to 6 p.m. Monday through Friday and noon to 4 p.m. Saturday and Sunday.
The concert is made possible by a gift from the late Edwin Earle Ferguson, an accomplished musician and attorney who worked his way through Drake and Drake Law School during the Great Depression by playing piano at radio stations and Younkers Tea Room.