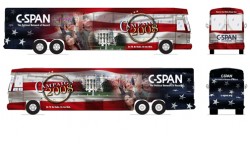 The C-SPAN Campaign 2008 Bus
CONTACT: Lisa Lacher, 515-271-3119, lisa.lacher@drake.edu; Phyllis Peters, Mediacom, 515-246-2295, ppeters@mediacomcc.com
C-SPAN is unveiling its Campaign 2008 Bus in Iowa this week and the 45-foot bus will be at the Drake University campus from 12:30 to 5 p.m. today in the Olmsted Center parking lot.
Gone is the yellow school bus look, as the bus has just received a complete makeover to be ready for extensive political coverage of the 2008 presidential campaign.
C-SPAN's Campaign 2008 Bus is equipped with a mobile multi-media demonstration center and full production facilities to produce public affairs shows such as "Washington Journal," "Road to the White House" and others.
Mediacom Communications is hosting the Iowa unveiling and campaign countdown — one year to the Iowa caucuses. In addition to Drake, the bus will visit the State Capitol and Johnston High School.
Drake University students, faculty and staff are invited to tour the C-SPAN bus and get an interactive preview of Campaign 2008. The open house bus visit will provide information on the following:


Media literacy skills — understanding how political messages are delivered


C-SPAN's coverage of the elections and how C-SPAN is different from other news media because of its public service mission


How to use C-SPAN as an educational and research tool
Visitors touring the bus will meet with C-SPAN staff and receive door prizes and refreshments.
C-SPAN was created by the cable industry as a public service.