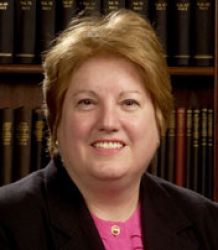 Susan Schmidt Bies
CONTACT: Chuck Terlouw, 515-271-3106, chuck.terlouw@drake.edu;
Lisa Lacher, 515-271-3119, lisa.lacher@drake.edu.
Susan Schmidt Bies, a member of the Board of Governors of the Federal Reserve System, will speak at the 20th annual Drake – FEI lecture at 7:15 p.m., Thursday, Nov. 2, at Drake University.
The lecture, titled "The Economic Outlook," is free and open to the public. It will be held in Sheslow Auditorium, Old Main, 2507 University Ave. A reception will follow in Levitt Hall.
Before joining the Board of Governors, Dr. Bies served as executive vice president for risk management and auditor at First Tennessee National Corp. in Memphis, Tenn. She holds an M.A. and Ph.D. in economics from Northwestern University and has been a fellow at the Federal Reserve Bank of Chicago and the Northwestern University Center for Urban Affairs.
The Drake – FEI Lecture is an annual event co-hosted by the Iowa Chapter of the Financial Executives International and Drake University's School of Accounting, which is part of the College of Business and Public Administration.
FEI is a professional association of more than 15,000 senior financial executives from 91 chapters and some 8,000 major companies throughout the United States and Canada. It is the leading advocate for corporate financial management.
The Iowa Chapter of FEI has nearly 100 active members representing 66 major companies in Iowa. Membership is open to those executives of major companies who are responsible for the financial management activities of their respective employing company.
For more information about the Drake – FEI Lecture, call 515-271-3106.