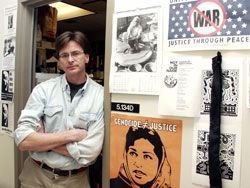 Robert W. Jensen, Ph.D.
CONTACT: Angela Renkoski, 515-271-3941, angela.renkoski@drake.edu;
Lisa Lacher, 515-271-3119, lisa.lacher@drake.edu
When members of the Diversity Committee at Drake's School of Journalism and Mass Communication sat down to choose a diversity lecturer, someone asked an intriguing question: "Why not have a white person talk with our predominantly white audience in Des Moines, Iowa?" After a bit of thought, the committee's response was: "Why not, indeed?" They sought the best person to fill the role – and found him in the form of a University of Texas professor and author.
Robert W. Jensen, Ph.D., will deliver the fourth annual Community in Diversity Lecture at Drake University on Wednesday, Nov. 1. His lecture, "The Problem of Diversity: The Politics of Race, Class and Gender," will begin at 7 p.m. in Sheslow Auditorium, Old Main, 2507 University Ave. A reception and book signing will follow the lecture in Levitt Hall. Both events are free and open to the public.
Jensen, a former journalist, engages in, studies and writes about dissent. Much of his work has focused on pornography and the radical feminist critique of sexuality and men's violence, but he has more recently turned to focusing on race and on American power throughout the world.
His book "The Heart of Whiteness: Confronting Race, Racism and White Privilege" (City Lights, 2005) explores what he calls "white supremacy" or "white privilege," which he says keeps racism alive and well within the United States.
The back cover summarizes Jensen's perspective. "W.E.B. DuBois wrote that the real question whites wanted to ask him, but were afraid to, was: 'How does it feel to be a problem?' … Robert Jensen writes that it is time for white America to reverse the direction of that question at the heart of color. It's time for white people to fully acknowledge that in the racial arena, they are the problem."
Jensen expounded on that idea during an interview with National Public Radio. "When I say 'white supremacy,' I don't mean neo-Nazis and Klan members. I mean in both material and ideological terms, the dominant society in the United States remains white-supremacist even decades after the Civil Rights movement."
His research draws on a variety of critical approaches to media and power. Calling the Oscar-winning film "Crash" a "white-supremacist movie," Jensen argues in an article posted on BlackCommentator.com that the movie "minimizes the reality of white supremacy" because its "simplistic message of tolerance directs attention away from a white-supremacist system and undermines white accountability for the maintenance of that system."
Jensen's opinion and analytic pieces on such subjects as foreign policy, politics and race have appeared in popular media across the country, including USA Today, The Los Angeles Times, The Baltimore Sun and Houston Chronicle. He also has appeared on MSNBC, NPR, FOX and CNN. He is involved in a number of activist groups working against what he calls U.S. military and economic domination of the rest of the world.
Jensen teaches courses in media law, ethics and politics at the University of Texas at Austin. He received his doctorate in media ethics and law from the University of Minnesota after a decade in professional journalism, which included stints as a copy editor at the St. Paul (Minn.) Pioneer Press and as a reporter and copy editor at the St. Petersburg (Fla.) Times.
He also is the author of "Citizens of the Empire: The Struggle to Claim Our Humanity" (City Lights, 2004) and "Writing Dissent: Taking Radical Ideas from the Margins to the Mainstream" (Peter Lang, 2002).
The Community in Diversity Lecture Series was created in 2003 to provide Drake University and the surrounding communities an opportunity to hear diverse viewpoints from today's media professionals and scholars. Speakers are invited to give a public lecture and to teach in several journalism classes as part of their visit to the campus. The series is sponsored by the School of Journalism and Mass Communication at Drake University.